German Shepherd Adopts Lion Cubs After They're Rejected By Their Mother
|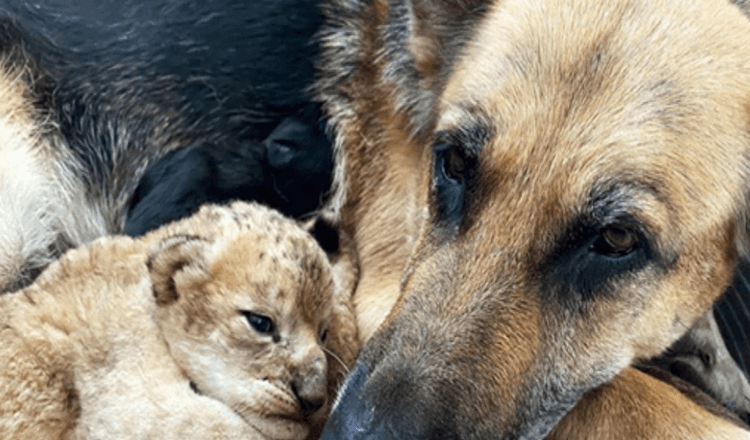 Dogs are fantastic foster parents. That's just what a German Shepherd did for a pair of lion cubs in a Russian wildlife park. After their mother rejected the two cubs, the dog adopted them as her own. Their mother, a lioness called Sirona, had given birth to the two cubs.
When the employees at the White Lion Park in Vladivostok, Russia, found that something wasn't quite right with the first-time lion mom, they became concerned. Sirona had been "very introverted, cautious, and discreet," according to the workers. Her two cubs were also in distress, as they were "emaciated and dehydrated."
The staff agreed to remove the cubs for their own protection at that stage.
Sandra, a German Shepherd who lives at the park, was then entrusted with the cubs. She welcomed the two lions into her home as if they were her own puppies. It was incredibly touching:
Sirona's actions toward her cubs was out of the ordinary, according to the wildlife park's owner, Viktor Agafonov. When she was around her own puppies, the lioness seemed to lose control. The lioness bit her own cubs, according to DailyMail, and one of the cubs had a slight wound, according to Agafonov.
During a post on Instagram, the White Lion Park received video footage of Sirona biting one of her cubs:
Sandra, the adoptive mother, Agafonov said she doesn't usually like cats. She was, however, delighted to be a foster mom for these two wild cats, possibly because she was feeling particularly maternal after the birth of her own puppies. Sandra first came to the wildlife park after a public appeal, according to the park director.
She was loaned to the wildlife park by a family from Artem for a "time."
Sandra is feeding the cubs without issue, according to Agafonov, reassuring the public that her dog milk is more than enough for the two lions, as it contains all of the nutrients that the two lions need to grow up normally.
The staff at the wildlife park recognizes that this endearing family dynamic will not last indefinitely, but they are optimistic that Sandra will be able to keep them in her care for a while longer.
Sandra's fostering of the two lion cubs was unexpected, according to Agafonov, because animal species rarely foster one another's young, particularly if they're wild animals. Still, it's adorable to see how well this dog mama got along with the lion cubs.
They were in desperate need of a loving mother, and Sandra appears to be that person. Hopefully, the three of them will begin to grow closer.