Dog Works As A Delivery Girl And Raises Funds For 160 Other Animals
|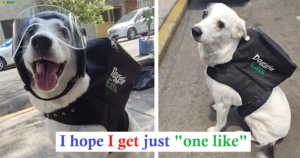 All those who have heard about a sweet dog in Mexico City who delivers vegan food to support her coworkers at the animal shelter to which she belongs have fallen in love with her. Her tale has gone viral on social media.
Any is a dog from the Garritas Guerreras animal sanctuary, which has become well-known for raising money by distributing food on the city's streets.
Any delivers "Amvorguesas" using her "Doggie Eats" bag, much like a delivery worker would in any app (Vegan Burgers).
Mexico has long been known to have one of the highest percentages of homeless dogs in Latin America, and this figure has escalated as a result of the outbreak. As a result, shelters are looking for ways to help these animals, whether through rescue or permanent placement.
Unfortunately, the efforts of the shelters have not been enough, and they are increasingly unable to support the furry ones owing to a lack of financial resources.
One of those affected is Garritas Guerreras, but happily Any is a part of this haven and is prepared to save her brothers. Any is one of the 160 animals kept in the shelter, but management has been forced to find alternatives because of a lack of funding.
As a result, the shelter has made a commitment to offering vegan food like hamburgers, chips, and flavored water in order to raise enough money.
The charming delivery dog is always accompanied by her handler, but she understands that it is her responsibility to guarantee that the parcel is delivered on time.
An staffer at the shelter wrote on a Facebook post:
"Dear friends, this lomiredistributor is currently running. To demonstrate her support for the 160 animals who call the sanctuary home, she brings the daily croquette there. There are vegan amvorguesas, crackers, and beet water with lemon available. Give your neighborhood's small businesses your support.
Any's photos quickly went viral on social media, with the dog even appearing in front of the cameras to show off her talent.
Any has built up such a massive online following that she now has an Instagram account with thousands of followers from all around the world.