Pitbull abandoned at fast food restaurant covers her rescuers in kisses
|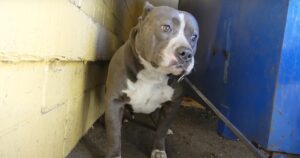 Here is a heartwarming tale of a rescue.
You can see in this video how important animal rescues are. You can watch the transformation of the fearful dog who was abandoned in a parking lot into a lovable creature.
A dog was found abandoned in a fast food restaurant, according to a report to Hope for Paws.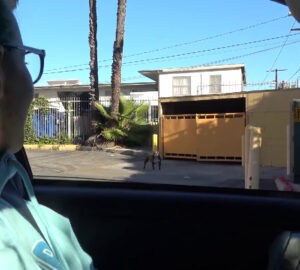 Alex Babock, the project manager for the group, and JoAnn Wiltz, one of their rescuers, drove to the scene. A black and white pitbull was waiting for them by Church's Chicken's trashcan.
When they arrived, the pitbull fled and hid behind the garbage cans.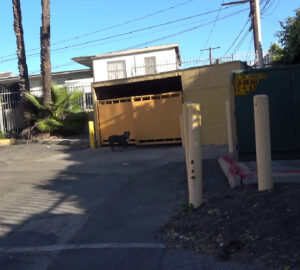 Animals are naturally fearful of strangers. When you try to approach them, it becomes apparent in their behavior. Simply put, this dog hasn't noticed that these folks are there to assist him.
The dog continued to hide in the corner while a garbage truck came to pick up the rubbish.
Her tail is wagging downward, which is an indication of fear. She was forced to sit in that corner because of everything going on around her. But this was also the ideal time to get the Pitbull.
With a burger, Alex and JoAnn attempted to lure her out.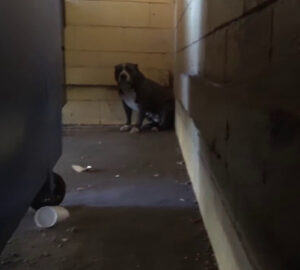 To see if she would eat them, they first threw a few pieces, which she did. They moved toward the dog and fed her by hand after that. Although the dog appeared happy with the food, it was nevertheless terribly frightened.
Then JoAnn put the food in front of the leash so they could catch her quickly.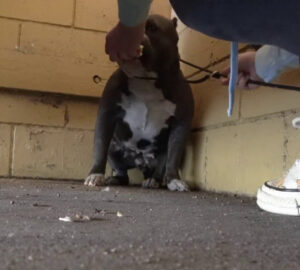 The dog suddenly charged towards it, but JoAnn was able to leash her. One obstacle has been overcome. The dog remained to hide behind the trash cans because it was still afraid of the garbage truck.
As the truck departed, the dog began to follow them.
When Alex and JoAnn succeeded in removing her from the trash, the dog gave them both hugs and kisses in appreciation for saving her. She was given the name Kisses because of this.
To provide Kisses with some care, they brought her to Hope for Paw's headquarters.
When they showered her, it was amazing to see how well-behaved she was. Both her body and snout were cleansed. The fact that the water turned a deep gray suggests that Kisses may have been present for a while.
They carried Kisses to their playroom after her bath, where you could immediately see that she had changed.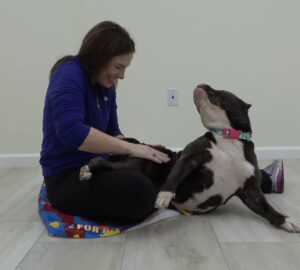 She grew animated and fun. After a few days, she had no trouble interacting with the other dogs. Even while she was playing with them, she was quite gentle.
Naturally, she continued to kiss her beloved rescuers.
She cherished smothering and huddling them. This demonstrates how appreciative this adorable Pitbull was of her rescuers.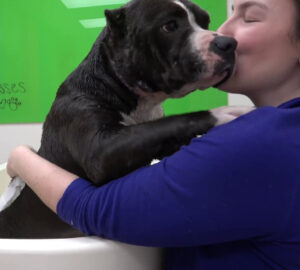 To find out how you can assist dogs, visit the Hope for Paws website. To continue operating, the group also seeks donations. There are a lot more Kisses out there that could be saved and placed in forever homes.
Check out the Kisses video down below!