Dog Runs Half Marathon By Mistake After being Let Out To Potty, Finishes 7th
|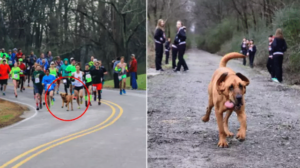 Runners were joined by a dog who had been turned loose for a pee break during the Elkmont Trackless Train Half Marathon in Alabama.
Ludivine, the cute Bloodhound, had made his escape by crawling under the garden gate and running towards the start of the race.
Even after pausing at the two-mile point to smell a dead rabbit, Ludivine did fairly well in this unexpected expedition, finishing seventh in the race.
On various occasions, this dog deviated from the path, such as when he wandered off to play with a herd of cows.
It's incredible that he got an amazing time and place after crossing the road in just over an hour and a half while still having a good time.
The official Facebook page for Elkmont's hound Half uploaded photos of the lovely Ludivine running the half-marathon.
Ludivine was awarded a medal for her efforts, and her owner, April Hamlin, 41, was happy with her pet's performance.
Thanks @ludivine_run for your epic run in the inaugural Trackless Train Trek now #ElkmontHoundDogHalf that inspired many runners to signup pic.twitter.com/MRp0l2VqnH

— Athens-Limestone AL (@Athens_Tourism) January 18, 2017
"All I did was open the door, and she or he raced the race on her own accord," she told Runner's World.
"My initial reaction was one of embarrassment and concern that she had maybe gotten in the way of the other racers. She's laid-back and pleasant, so I'm surprised she ran the entire half marathon since she's actually rather lazy," Hamlin continued.
Jim Clemens, who finished fourth within the half marathon, said, "Every time i assumed she had dropped off to travel back home, i might hear her returning up to me and she or he would race past me up to the 2 leaders. She would escape to romp through the streams and into yards to smell around for a short time ." Well done Ludivine!
Watch her victory video below: