RIP SMILEY–THE DOG WHO OVERCAME SO MUCH TO BRING US HAPPINESS
|
One of Canada's happiest and most well-loved faces has sadly crossed over the rainbow bridge!
Smiley, a 15-year-old blind golden retriever who worked as a therapy dog for the majority of his life, died after a three-month battle with cancer.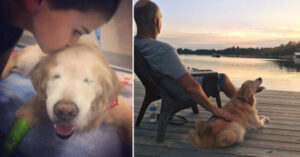 "It's the only way to repay what he's done for us all," Smiley's owner,Joanne George posted on Instagram the day before she said goodbye to her friend. "We will let him go tomorrow. He's had enough."
Smiley had comforted senior citizens in nursing homes, autistic children,and patients of all ages at hospitals near his home in Stouffville, Ontario, according to Global News.  His fans, however, come from all over the world.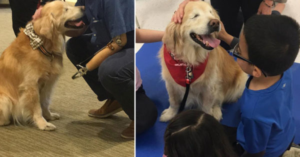 Of all Smiley's friends, George's son, Shepard, will miss his "real-life stuffed animal" the most. One of the last images George posted after her dog's passing was that of Shepard visiting Smiley's final resting place.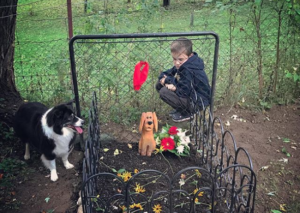 A boy and his dog must part ways at some point," she wrote."Shepherd understands that the pain he is experiencing is the result of loving another with all of your heart."He,like me, has no regrets."The pain is worth everything he gave us."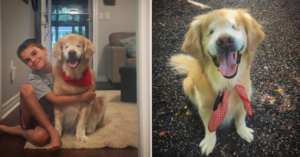 George had announced Smiley's cancer diagnosis on Facebook months before."It's not easy typing this.."They discovered a mass/tumor on Smiley's stomach and another on his liver," she wrote."The dog I thought would live forever isn't with us for much longer."We are clearly stunned and devastated. He's been so happy lately, with extra pep in his step, that this is difficult to understand."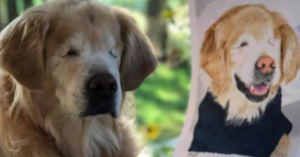 Smiley was put to sleep at 12:30 p.m. on October 14 and memorialized with a candlelight vigil.
CBC Toronto created a video that celebrates this incredibly kind canine's life,and it struck a chord with thousands of Smiley fans around the world.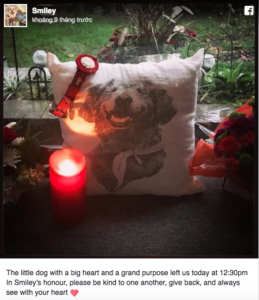 With Smiley's passing and so many people sending love and giving so much attention to this beautiful boy, it makes me believe that there are still some wonderful caring people in this world," One commenter wrote. Smiley would never want his friends to be sad.