Man saves dog falling from 9th floor balcony
|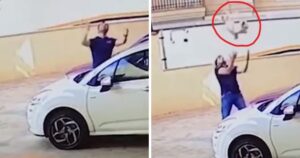 When introducing a new puppy into the house, preparation is essential! Having a baby in the house requires humans to "baby-proof" the entire place in order to make it safer. Responsible dog owners must make sure their home has been "puppy-proofed" for canines!
One day in Brazil, Mel, the Shih Tzu, was having fun in her apartment.
Little Mel was having pleasure playing around in her owner's residence in Ribeirao Preto, Brazil. She made the decision to leave the room and go to the balcony while she was playing. She might have fallen through the railing because Shih Tzus are so little, which is typically not a problem.
The little puppy was climbing around and got stuck on the balcony ledge.
The dog climbed onto the balcony's outer ledge by squeezing through the railing slats before becoming alarmed. When Mel became anxious, she was unable to pass back through the railing from where she had just come. The little puppy was frightened and was barking hysterically.
When Joao Augusto heard a dog barking , he was walking down the ground.
If Mel fell, there was no way she would survive.
Joao witnessed the unimaginable finally occur. Mel plunged to the ground after going over the edge. Like a receiver of a huge punt in football, Joao set up shop directly beneath where he anticipated the dog would fall.
A white flash appears a short while afterwards.
Mel had a momentary ability to fly. But as she flew towards the ground, those seconds were slipping very quickly. Joao would only have a brief window of time to catch the dog as it raced at him. The dog flew over his head in a white flash before landing on his waiting lap.
Joao caught the flying creature like a great football player.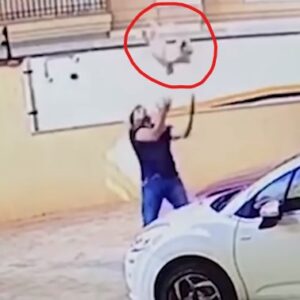 Mel is momentarily surprised before turning to face her saviour and running off. You wouldn't even realize the dog had just fallen 126 feet! The incident serves as a wonderful reminder to ALWAYS take the required safety measures when it comes to protecting your dogs (and your babies).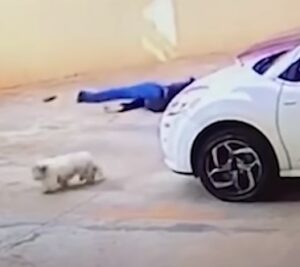 Check out the heroic video below!
Please SHARE this with your friends and family.