Reunited homeless man and dog: "My dog is in the pound"
|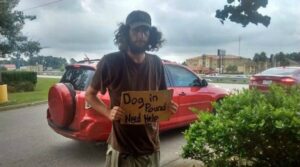 Angels are present everywhere. A Good Samaritan reunited a homeless guy and his dog in Huntsville, Texas; the woman's story is incredibly motivational.
Wilma Price was leaving the neighborhood Walmart when she saw a homeless man sitting by the side of the road carrying a sign that read, "My dog is in the pound – help!" The woman then comes to a stop because she is well aware of the various signs that the homeless frequently place, such as "Lost my job" or "I need a beer." However, something prompts Wilma to stop, and as she delivers the man her card, he informs her that the cost to have his dog removed from the pound is $120.
Wilma checks the homeless man's story with the shelter because she is unsure if he is telling the truth and only has $8.00 in her wallet. The shelter informs Wilma that the man's dog is housed there, which explains why the fee to release him is so high:.
"I asked him why so much the pound said because $35 was for an impoundment fee; then they gave it rabies shots, got a heart worm test, and yes the dog was negative; and put a flea prevention and they said yes the dog was in good shape; so now when I don't have a dime to my name I call a dear friend and sponsor money and I tell her about this guy. She said we'd go back and learn his story, so I did. He is 30 years old, and his name is Patrick. I spoke with him for a while, learning about his situation and other things, and after that I told him, "Well, I'm getting the money to get your dog out, so let's go down to the pound.". ".
They left for the shelter, paid the fees, and Patrick was given the paperwork he needed to get his dog back: "The dog is named Franklin; he was giddy when he emerged from the pound. To do what is right in your heart sometimes requires digging deeper than being merely happy to see the man. This man adores that canine. The bowl and toys for the dog were on his backpack. The man was so incredibly grateful and had tears in his eyes when the dog came out because he was aiding the dog in his battle against the world. ".
Everybody has been in a difficult situation at some point, perhaps nothing as tragic as Patrick's, but you never know how helping someone else out might mean the world to them. "I know for a fact that man loves his dog, and he tried to give me the money he had amassed. Since he might be able to eat dinner tonight, I wouldn't accept it. His dog eats before him, he claimed. Wow, that describes me exactly. I wish I had the cash to pay for the man to stay somewhere for a week so he and Franklin could regroup, but I'm afraid I don't. All I can do is give him his dog and hope that the man gets a break from life. After the man and Franklin left, I sobbed. In Huntsville, Texas' Walmart parking lot, I returned them there. God, please bless Patrick tonight in Franklin. ".
You are a hero Wilma – a person to celebrate for your kindness and compassion.