Inseparble Trio of Saint Bernards who were dumped at shelter find forever home together
|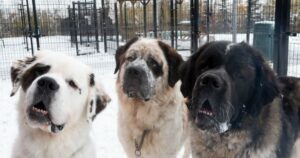 You can now chill if, like me, you spent much too much time and effort hoping that the three Saint Bernards up for adoption in Edmonton, Canada, would find a home together. The three gigantic big boys, according to reports, have been adopted.
The 350-pound trio of Gasket, Gunther, and Goliath was initially made known by the Edmonton Humane Society in the middle of October. The two-year-old canines are attached to one another, so any adopters would need to be prepared to accept them all. According to the charity, a family in Calgary was chosen after they received a great deal of interest in the dogs.
The family, which has chosen to stay anonymous, said today, "We cried tears of joy when we found out that we were getting the opportunity to meet them." "We fell in love with them right away. The dogs are extremely rambunctious and welcoming. They'll fit into our house so perfectly.
A five-minute long video of the canines having fun in the snow was also made public by the Edmonton Humane Society, and thank God it: