SHELTER DOG REFUSES TO LEAVE WITHOUT GIVING ALL STAFF MEMBERS GOODBYE KISSES
|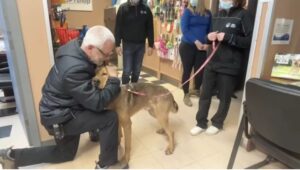 Jax was visibly malnourished when he arrived, according to Bill Thorn, the director of the Regina Humane Society, indicating that he may have been homeless for some time. To correct this, the shelter gave Jax's the food he needed to maintain his health.
Jax has spent a considerable amount of time living at the Regina Humane Society. He has been actively looking for a permanent home but has frequently been passed over by potential adopters. Despite Jax's excellent traits, his kennel remained empty, demoralizing the shelter's workers. They persisted in their resolve to grant Jax's wish of finding a loving home, though.
Still, there was no desire to adopt Jax. Jax would bark loudly whenever anyone came near his kennel, and the staff worried that this would put off prospective adopters. Jax, according to Thorn, was a nice dog that merely yearned for human contact, but outsiders frequently misunderstood his actions.
Jax finally realized his long-held ambition on March 3, 2023, when he discovered his forever home. The employees planned a spectacular send-off for Jax in honor of his leaving the shelter, assembling in the lobby to say goodbye. They weren't prepared for Jax's passionate farewell to each employee, which made his departure even more difficult.
Watch the video here
PLEASE SHARE WITH FRIENDS AND FAMILY