For the first time, a miniature horse in a wheelchair who cannot use its hind legs runs.
|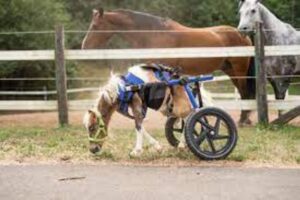 Thanks to a revolutionary wheelchair, a small horse who had little to no movement in his back can now trot.
A congenital condition that affects two luxating patellas is what Road to Refuge Animal Sanctuary in North Haven claims Turbo had at birth.
Turbo was only able to walk with his head cocked and his entire weight supported by his front two legs.
When Turbo's former owners sought advice from "R2RAS" in North Haven, the organization intervened and promised to give Turbo a fair shot at its shelter.
Road to Refuge's founder, Megan, a mixed animal vet technician, says she started the charity after working at a vet clinic. Megan claimed that a large number of farm animals were brought in for euthanasia during her tenure as a vet tech. Instead, wanting to give the animals another chance, she brought them home with her.
Megan stated, "I tend to gravitate toward the people with special needs, the broken ones, the really medically intensive cases."
She claimed to have taken care of old goats, blind goats, and a goat named Peaches who also need assistance with a wheelchair.
That, she claimed, was how she began the journey that resulted in Turbo's rescue.
After seeing Turbo's story on social media, Walkin' Pets, a pet mobility company located in New Hampshire, said it drove to the sanctuary and gave Turbo a wheelchair. It claimed that Turbo bolted off before it could even get him fully strapped up.
Megan remarked, "I almost started crying seeing Turbo walk before any assistance and dragging his legs, to being in his cart." "It was all very exciting—he was running and bucking."
Megan encouraged everyone to adopt a special needs animal without hesitation.
She declared, "It's definitely a road worth traveling." "They truly carve out a unique space in your heart."
Turbo's trip is far from over, according to the sanctuary. The horse will require physical rehabilitation, physical therapy, and possibly even knee surgery as it heals.