Dog Gives Sweet Kisses To Firefighter Who Rescued Him From Roof
|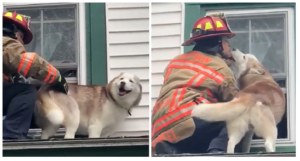 A Husky kisses a firefighter to thank him for saving him in this adorable video. This dog was overjoyed to be saved by a firefighter and couldn't stop himself from licking his hero.
It occurred after Maine authorities received several calls about a dog trapped on a house's roof. To save the puppy, the firefighter who came to assist climbed out of an upstairs window. The firefighter managed to lure the dog back inside after climbing to the roof top and finally bringing him down.
Both the dog and his rescuer were in this type of situation for the first time, and the grateful dog is so grateful that he kisses his rescuer! Nothing compares to the unconditional love of a helpless puppy! You'll adore the beautiful scenery, and they'll teach you a lot about love!