Stray Pit Bull Protects Missing Toddler Until He Gets Home Safely
|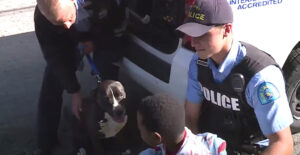 Stray dogs are just as good as, if not better than, other dogs. Unfortunately, these cute animals are often abandoned on the streets and must struggle for their lives. Their unfortunate circumstances make them fearful of people and distant from them. People, on the other hand, love people and regard them as best friends regardless of how humans treat them.
A missing toddler was discovered wandering through the streets of St. Louis, Missouri, with a stray pit bull that seemed to be defending him. Until the boy was reunited with his family, the pit bull would not leave his side.
According to FOX 2, on the morning of October 1st, a neighbor spotted a young boy named Kh'amorion Taylor walking down a street in his pajamas with his dog by his side. The pit bull seemed to be watching the young boy before he arrived home safely, which surprised the neighbor.
When the boy was discovered, the neighbor, who wanted to remain anonymous, was walking her dogs. She told the TV station, "I knocked on doors up and down the street." "I knocked on the doors, but no one answered; those who did, didn't recognize the child."
The woman said of Taylor, "He looked well taken care of, he was very tidy, very clean; he just didn't have the shoes on." Taylor's father was reunited with his son after seeing him on social media. As the dog was being brought in by the St. Louis Police Department, Taylor is said to have repeatedly said "puppy."
The Good Samaritan said that she believed it was her civic responsibility to assist. "It's important that we stay together, that we support one another, that we return to the things that our grandparents and their group did," she told FOX 2. "That we create a sense of belonging."
Watch the video:
Taylor's canine guardian angel is now being considered for adoption by the St. Louis Police Department. Many people have since left messages on the department's Facebook page pleading for the dog to be adopted. "Are you planning to foster the stray pitbull?
One individual wrote, "Please adopt him as an honorary member." "PLEASE adopt the affectionate Pit Bull…. He is deserving of a loving and peaceful family! Allowing him to remain on the streets is not an option…" wrote another.
We are optimistic that such a caring and protective dog will soon find a forever home.