Homeless Man Sleeps Outside Of Animal Shelter In The Hopes Of Being Reunited With His Lost Dog
|
He didn't have a penny to his name, but all he cared about was getting his dog back. A young homeless man was discovered sleeping in front of an animal shelter in the hopes of finding his missing dog.
When a worker from DeKalb County Animal Services arrived for work in the morning, he discovered the man lying on the sidewalk in front of their shelter.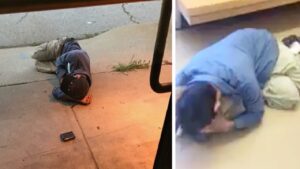 They discovered when they awoke him that he had used the last of his money to drive the bus over to them after his dog went missing. He was expecting them to open so he could see if they had found her.
They had, it turned out. Two weeks before, the shelter had picked up a stray and transported it to their new facility on the other side of town. The kennel technician then performed an act of kindness that has gone viral.
The shelter worker paid for his train ticket so he could meet up with his dog, Tata, at the other site.
"We see some wonderful reunions here at LifeLine's DeKalb Animal Services, but this one was extra special," the shelter wrote of their reunion.
The shelter was so moved by the touching reunion that they waived all fees and offered the man aid through their outreach program, which supports homeless people and their pets.