Wild Donkey Behaves Just Like A Dog Whenever His Dad Comes Home
|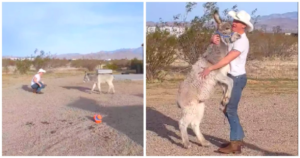 Walter is a gentle donkey that lives in Oatman, Arizona with his parents and three German shepherd siblings. Growing up around a pack of dogs, it's no surprise that Walter has developed some peculiar behaviors and behaves in a doglike manner. His parents, on the other hand, are unconcerned about this and continue to adore him.
Kelly and Brad Blake, his owners, found him abandoned in the barn and took him into their home. "Walter's mother turned him down because he was too young for her. For ten hours, the Bureau of Land Management and town residents sought to persuade Walter's mother to adopt him. Because nothing was working, we were contacted and asked if we wanted to adopt him. "Of course, we said yes!" .
He was brought home by the couple, who allowed him to bond with their three German Shepherd dogs. It didn't take long for Walter to adjust to his new situation. He instantly made friends with his new parents, particularly his father.
The ailing little donkey has grown to be 150 pounds thanks to his parents' love and attention. His canine siblings even raised him and taught him proper etiquette. As a result, he behaves and thinks as if he were one of the dogs.
When Walter's father Brad gets home from a business trip, though, his dog-like attitude shines through. He runs up to his father, waggles his lovely little tail, and nuzzles his shoulder as soon as he sees him.
"Walter acts like a dog," Blake observed. "When we return home, he wags his tail and gets happy. To love on him, he hops and presses his body against mine. He even takes naps next to me on the couch."