Dog Left Behind By Her Family Hangs Out With Firefighters All Day Now
|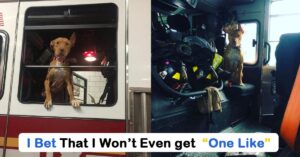 "Her tail was wagging and she was licking and welcoming everyone as soon as she stepped inside the firehouse."
Ashley's previous owners didn't feed her enough, didn't take her outside enough, and eventually abandoned her.
The one-year-old pit dog was rescued in January 2017 by Erica Mahnken, cofounder of No More Pain Rescue, and her fiance Michael Favor.
"Someone told us about a couple that lived in an abandoned house. They didn't have heat or electricity, but they did have a dog." Mahnken told The Dodo shortly after the rescue.
When a snowstorm hit, the couple most likely left. "I believe they went hunting for a warm place to stay and abandoned the dog," Mahnken speculated. "So we went over to fetch her as soon as we got the phone call."
Favor told Mahnken to stay in the car while he searched the house for the dog. He'd later tell Mahnken how awful it was. "There was no electricity in the house, and it was freezing," Mahnken explained. "She was hungry and thirsty. The house was in a state of disarray. The windows were shattered, and excrement was strewn over the room."
Ashley, on the other hand, was unharmed, and as Favor escorted her out, she appeared to be the happiest dog.
Mahnken explained, "She came sprinting down, ecstatic." "She slammed into my automobile."
Ashley was malnourished and underweight. "Because she was so frail, her ribs were all that could be seen. She was finally told by the veterinarian that she was 25 pounds underweight."
They also noticed that Ashley had cigarette burns on the top of her head.
Because No More Pain Rescue lacks a physical shelter, Mahnken and Favor wanted to find Ashley a foster family right away. They knew there used to be a dog at the Fort Pitt station because they had friends in the New York City Fire Department (FDNY). As a result, Mahnken and Favor asked the firefighters if they could keep Ashley until they could find her a good home.
Ashley seemed to be satisfied with her current situation.
"As soon as she walked into the firehouse, her tail was wagging, and she was kissing and greeting everyone," Mahnken recalled. "She was ecstatic. Given where she came from, you wouldn't expect it. You'd think she'd be a little jittery, but she wasn't."
A few days later, the firefighting crew called Mahnken and requested that Ashley be maintained.
"They declared, 'We're going to adopt her.' We are really enamored with her. 'She's at ease here,' says the narrator "Mahnken clarified. "So I was ecstatic. And I knew she belonged there as soon as I walked her in."
Shley is now a full-time firefighter at the station.
"She's always on the go," Mahnken continued, "she goes on little runs with them, she travels in the fire truck with them." "Around 30 times a day, they take her for walks. They take her up to the roof to have fun with her. She's always in the kitchen, keeping an eye on them as they eat. She seems to have an endless supply of goodies. Over there, she's had a lovely life."