18-Year-Old Pittie Got Adopted By An Incredibly Good-Hearted Man
|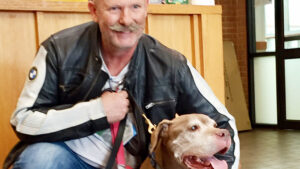 Despite the fact that all shelter animals deserve a loving home, we can't ignore the fact that senior dogs and cats are the least likely to be adopted due to their advanced age. It's a sad reality, but it's the truth. Regardless matter how much love they crave, the majority of those miserable sweethearts will have to spend the rest of their lives in a kennel.
Julep was an 18-year-old Pittie who had recently lost her owner, and unfortunately, no one in her family was willing to keep an eye on the heartbroken young lady. The team at the Humane Rescue Alliance (HRA) was concerned about her grim future when she arrived, as she was the oldest animal they had ever taken in.
HRA staff members published her story on social media in the hopes of finding her "simply a sofa to sleep on and a person to love," and to their surprise, her charisma immediately captivated the hearts of many people. Her tale was shared over 4000 times on Facebook, and she even made the front page of the newspaper.
Wayne Lerch, a good-hearted man, stepped into the plot at this point. The person appeared in front of HRA's door shortly after hearing about Julep. At first, it was love at first sight.
HRA veterinary technician Geri Lee described the experience as "like Christmas morning." "Anytime one of our animals is adopted, we're overjoyed, but it's pure delight when an older one gets a loving home."
Wayne arrived on his motorcycle at first, but after meeting Julep, he quickly filled out the paperwork and went back home to start his car. He couldn't wait to bring the adorable puppy home.
"I understand she won't be around for long, but that's fine," Lerch added. "She deserves to live out the rest of her days in a loving environment, surrounded by people who will pamper her and ensure that she enjoys the time she has left."
Wayne was still grieving the loss of his beloved Pittie Jasmine, and Julep, now known as Tootie after his adored grandma, was the perfect match to fill the void in his heart.
"I can't believe how fortunate I am to have discovered her," he remarked. "She makes me happy, and while I still miss Jasmine a lot, Tootie reminds me that I'm a much better person for having her in my life."