A German Shepherd Dog Saves A 90-Year-Old Woman Who Was Lost In The Woods
|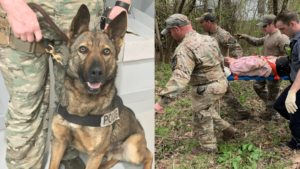 Investigators knew who to contact when a 90-year-old woman went missing. Officer Saby, the four-legged K9 wonder dog with a sniffer that won't quit, was contacted.
Loudell Hubbard, a 90-year-old woman from Birmingham, Alabama, went missing, according to ABC News. The elderly woman had been missing for more than twelve hours and had been out all night.
A search-and-rescue mission has been initiated. For more than twelve hours, a team searched for Hubbard. Officer Saby discovered her cold and damp in a creek bed, where she stayed the night with her pocketbook as a pillow.
Officer Saby led two officers from the Birmingham Police SRT K9 Unit, Richard Wright and Dustin Brock, straight to Hubbard. The K9 is credited by the officers for saving the woman's life.
Officer Dustin Brock remarked, "It's hard for us to imitate what he does and execute his job as quickly as he does."
Hubbard, who is suffering from dementia, wandered a mile and a half from her home and into the woods.
She couldn't recall how she got there or how she got back.
She is thought to have fallen into the creek and was unable to climb out due to her weakness and confusion.
She'd also forgotten her cane at home.
Officer Brock explained how he found her:
Saby was pushing me towards the brook at the same time Richard came around the corner. She was sleeping in the brook as I came around."
"I said, 'Ma'am, can you hear me?'" Wright recounted. We just went to her after she raised her head."
Frederick Jones, her next-door neighbor, was grateful that she was found alive and says he never gave up hope that she would be found. And he claims it was fantastic when she was rescued.
Officer Wright stated the following:
"When we got the call, I was hoping that if it was my grandmother, someone would go out of their way to find her."
Jones cited the Bible to explain how and why it is necessary to look out for one another. "The Bible encourages us to love our neighbors as we love ourselves. That's where we're at right now."
Thanks to Officer Saby for being such a good dog as well as her search and rescue team. Hubbard is now at a local hospital and doesn't have any serious injuries.
Please share this amazing search and rescue story with your family and friends.