This Veterinarian Is Walking Around California Treating Homeless People's Animals For Free
|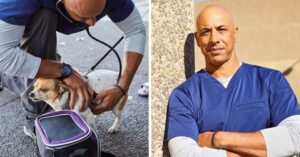 Dr. Stewart Kwane is a brave veterinarian who is changing the world for the better. He has always been an animal lover and spent most of his childhood attempting to save stray animals, which led him to pursue a career as a veterinarian, and he has since saved innumerable creatures. Because of the tremendous work he's doing to help the pets of California's homeless population, he's now known as "The Street Vet."
Dr. Kwane realized that in order to actually contribute and make a difference in the world, he needed to start aiding those who were struggling to provide their animals with basic medical care in 2007, when the United States was plagued by an economic crisis.
"I'd been practicing high-end medicine for wealthy clientele who could afford it." Dr. Kwane told CNN, "But suddenly I was pushed into this economic conflict, and people couldn't even afford to help their dogs."
Poverty is difficult enough on its own, but being unable to provide assistance to someone you care about is heartbreaking.
Unfortunately, for many of our impoverished, this is the reality.
Dr. Kwane, on the other hand, is doing everything he can to ensure that as many people as possible have access to veterinary treatment for their beloved dogs.
He's been offering free treatments on the streets of California since 2011.
Dr. Kwane began by setting up a soup meal and offering free check-ups, and the response was overwhelming; people began line up to see him right away.
Dr. Kwane quickly learned that his skills were in high demand, so he now spends his weekends walking around and offering his services for free.
Dr. Kwane can heal a variety of minor diseases on the fly thanks to his handy medical bag.
However, if a pet has a more serious ailment, that doesn't mean they're out of luck; Dr. Kwane would gladly pay for medical bills, vaccines, and everything else they require to heal.
Dr. Kwane even covers the cost of major surgeries and treatments, which can run into the thousands of dollars.
While the dedicated veterinarian covers the majority of his medical expenditures on his own, he uses his GoFundMe to support surgeries and other similarly costly treatments.
Countless people and their pets have benefited from Dr. Kwane's compassion, talent, and dedication.
He is saving lives and offering a vital service to those who would otherwise have nowhere to turn for assistance if it weren't for him.
Pets are a significant source of love and connection for many homeless individuals.
Homeless individuals are frequently subjected to prejudice and cruelty, but their dogs provide them with a source of joy and hope.
Dr. Kwane is committed to continuing his effort, and he aims to expand the project and enlist the help of other veterans in the future.
More people and their pets would be able to receive proper care as a result.
To so many small families in need, this would be life-changing.
Dr. Kwane is doing a fantastic job, and we hope that additional vets will be motivated to help.
Nobody should have to lose a companion because they can't afford to see a veterinarian.
If you'd like to help Dr. Kwan's essential mission or just learn more about it, click here.