Couple Saves Mother Dog And Her Puppy Abandoned Up To Mountains
|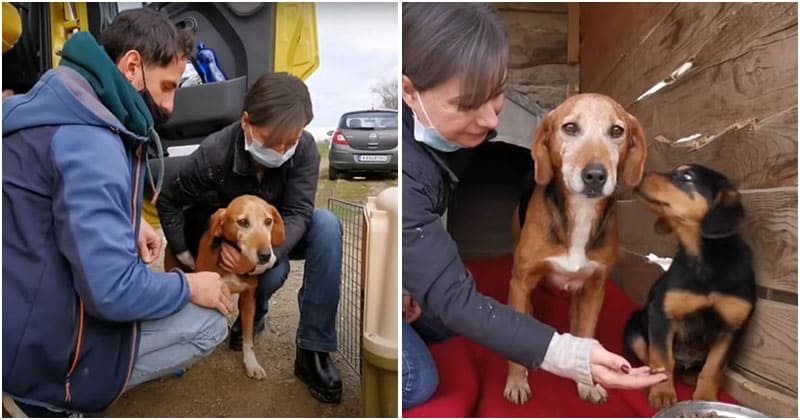 While driving across Greece, Jonathan and Yana came upon a mother dog and her puppy in need of assistance. They swiftly came to a halt and checked on the two animals. The couple assumed the dogs had been abandoned when they saw them. They couldn't leave them helpless, so the two good guys decided to assist them. They discovered DAR Animal Rescue on the internet and approached them for assistance through the UK group GAR.
Ermioni and her colleagues rushed to save the animals after receiving the call. It took them three hours to arrive at their destination. When they arrived, they promptly assessed the dogs' situation and prepared a secure transport box to transport them to the shelter. They finally got the dogs into the carrier box with the help of Jonathan and Yana. They used a towel to cover the pup's eyes since she was terrified and stressed.
They brought the carrier into the shelter and set up a warm and welcoming environment for the mother and her terrified puppy. Because they had spent so much time in the mountains, the two animals required more time to adjust to their new surroundings. To follow their routine and care for them, the rescuers realized they required patience as well. They let the dogs enjoy their new home and recuperate after speaking for a time.
Ermioni took the dogs to the vet the next day for a check-up. The doctors examined them and provided them with all necessary medical treatment and attention. Because this may be their first visit to a clinic, Ermioni stayed with them and made them feel at ease throughout the procedure. They returned to the shelter after obtaining all of the necessary care and began their new life with other canines. That, however, was not the end of their epic tale.
Jonathan and Yana returned to the shelter one day and decided to adopt the two dogs. They are now living a joyful life that they deserve after everything that has occurred to them in the past. We are confident that the caring pair will do everything possible to ensure that their beloved canines are happy and healthy.
Watch the full rescue here:
This is the most amazing rescue!! Thank you to DAR, and the beautiful couple that decided to give those two special dogs a loving and safe home!! Blessings and Love to ALL!!
If you want to support DAR, you can make a donation here. Don't forget to follow them on Facebook or Instagram for new rescues and updates.