Newborn Puppy Abandoned On The Sidewalk Has A Loving Home He Always Desires
|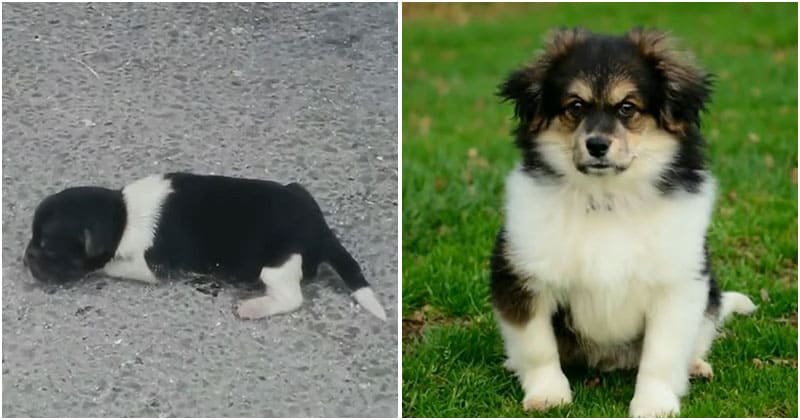 Meet Joy, a dog who was abandoned on the streets as a newborn. He was little and fragile because he didn't have his mother's care. He was unable to care for himself and appeared to have abandoned his life to chance. However, volunteers from Howl Of A Dog, a Romanian nonprofit animal rescue organization, discovered him and transported him to their shelter.
Joy weighed only 160 grams when he came to the shelter, therefore his arrival was considered the first day of his life. Raising orphaned newborn puppies is difficult since they are weak, blind, deaf, toothless, and unable to regulate their body temperature. Despite the challenges, the staff did their best to care for him and help him grow up.
He spent most of the first week resting and eating with the assistance of personnel. He finally opened his eyes after three weeks. He began to explore his surroundings and make friends with other hairy species. He was strong enough to eat on his own by the time he was seven weeks old. Everyone assisted him in finding a new home once he was ready for adoption.
The workers at Howl Of A Dog got the wonderful news after 4 months. Joy was adopted by a wonderful family from the Netherlands who fell in love with him. Ellen and Ricardo, his new parents, were so excited to meet him that they drove across Europe to personally bring him home. Joy is currently living happily with his beloved family in his forever home, which brings us great joy.
Thank you very much for saving him and providing him with the opportunity to have a happy life. What a difference a week makes, especially when you consider Joy's lovely fur, vibrant colors, and inquisitive eyes. We wish him happiness and love throughout his life.
Howl Of A Dog's commitment is to rescue abandoned, neglected and abused dogs from the streets or from local kill-shelters and to find them suitable loving forever homes. For more details please visit their website or Facebook page.
Please share it with your friends and family members!