Blind And Deaf Puppy That Looks Like A Baby Piglet Helps Kids Deal With Their Differences
|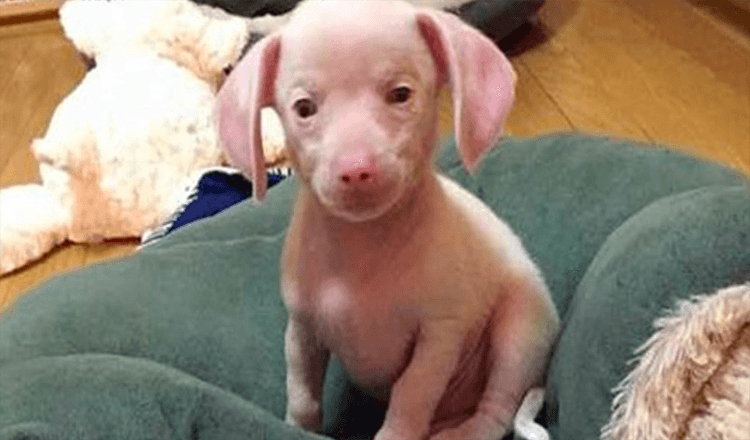 We all need a little motivation now and again to remind us to never give up… Piglet, a little deaf and blind puppy, is just such an inspiration.
After being rescued and brought to a shelter, a Connecticut veterinarian called Melissa Shapiro fostered the breathtakingly adorable Piglet.
Shapiro took the little dachshund-Chihuahua mix in with the intention of it being a temporary situation because it was evident that the little dachshund-Chihuahua mix would require a lot of training. Piglet, on the other hand, had clearly found his forever home after two months.
Piglet was born into an overcrowded Georgia home, where he shared a home with 35 other puppies!
Piglet is Shapiro's seventh canine companion. Even though he now lives "like a little prince," he faced some difficulties in the beginning.
"It was quite a decision to make," Shapiro remarked in an interview with People. He's a lot of work, and taking care of a little crippled baby is like a full-time job for him. But he's so adorable that we couldn't part with him at that time. He was so agitated that he couldn't stop screaming. He'd play and then sleep, but when he wasn't doing either of those things, he'd cry. The first month I got the dog, I couldn't leave the house."
Piglet's extraordinary life experience has been documented by Shapiro on Instagram, where the little pooch has amassed over 216,000 followers.
Piglet has come a long way, transforming from a panicked little pup to a now-confident boy who enjoys meeting new people.
But this isn't the end of the story. Shapiro told People that she decided to retain him because "he needs to have some deeper meaning."
Piglet's narrative finally made its way to a Massachusetts third-grade classroom, where the teacher decided to use Piglet as an example for the students to show them why they should never give up and how life's challenges may lead to growth and greatness.
"She dubbed it Piglet Mindset, and we corresponded throughout the year," Shapiro explained. We surprised the kids at the end of the year. We strolled in with Piggy in his stroller and three of my other dogs in tow, thinking we were going to FaceTime, and everyone was weeping."
Piglet Mindset has taken hold in classrooms across Alabama, Connecticut, Japan, and Australia, where supporters of the Piglet Mindset Outreach program want to teach children how to deal with challenges by relying on what they already have. You may get the resources for free here if you're interested.
Through social media promotions and merchandise, Shapiro and Piglet have fundraised more than $30,000, all of which has been donated to rescues for special needs dogs, as well as other non-profits.
Shapiro hopes to one day be able to form her own non-profit organization so that she may donate more money to animal shelters.
"People are afraid to adopt these creatures because they believe it will be too much work," she continues. Individuals read Piglet's page, and I get so many emails from people who have adopted because of him. It's gratifying to see that others are following Piggy's lead and being inspired by him. Knowing him makes a lot of people very happy."
What an incredibly touching story. Piglet is the sweetest little boy!