Mailman Builds A Ramp So His Old Dog Friend Could Still Greet Him When He Comes
|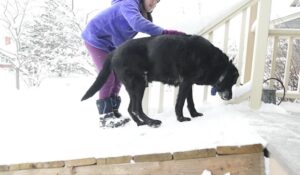 Recently, retired USPS employee Jeff Kramer built a dog ramp so that his elderly black Lab, Tashi, could still greet the mailman.
At the age of 14, Kramer noticed that the dog began to have difficulty walking. According to owner Karen Dimetrosky, "We were literally dragging him up and down the stairs." He weighs about seventy pounds.
The mailman only ever showed up one day on his day off to erect the ramp. He is indeed amazing; during the ramp, He has kept us alive.
The friendly mailman commented that he should live a little longer. He is still happy. That's what we want. We desire a happy animal," Kramer continued. Yeah, he said, smiling, "a mailman who likes dogs." How in the world?
Jeff Kramer, a USPS worker, built a dog ramp so that elderly black lab Tashi could still come visit and say "hello."
To ensure that his aging canine companion can still greet him when he arrives, the mailman builds a ramp.