Sick Stray Puppy Overjoyed When Firefighter Who Saved Her Comes To Visit
|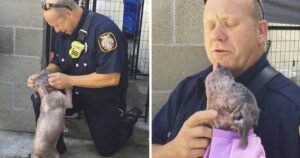 This reunion could not be more perfect! Mike Thawley, a firefighter, rescued a Pit Bull puppy and went to the local animal shelter to see how she was doing.
Mike is a member of Sacramento, California's Fire Station 14. He rescued the sick puppy that was stranded in the rain. He took her to the Front Street Animal Shelter for medical attention and care after cleaning her up.
He came to see her the next day, and as you can see in the video below, she was quite appreciative.
Chunkie, the small dog, recognizes her rescuer right away and wags her tail, begging to be petted. While Chunkie recovers from mange, Mike lifts her up in his arms and wraps her in a lovely pink sweater. She wants to chase him down when he walks away from her.
In the video below, you can see a nice moment:
If you have trouble viewing the video above, try the one below.
Mike, on the other hand, was not through assisting his newfound acquaintance.
Mike, his wife Carla, and their three daughters unanimously opted to foster Chunkie during her noncontagious mange treatment and then adopt her permanently afterward.
"We all fell in love with her," Thawley explained.
Mike stated that Chunkie was a part of the family from the beginning of her foster care.
Don't you think this is a tale worth telling?