Heartwarming Moment Rescued Dog Reunites With Her Siblings Who She Hasn't Seen Since She Was A Puppy
|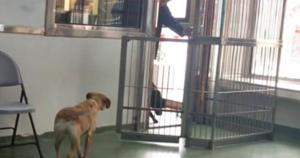 Laura Land and her husband adopted Samo four years ago from a litter dubbed "The Adams Family" at the Animal Haven Shelter in Soho. Samo's brothers and sisters were also adopted and placed with loving households.
Laura recently organized a reunion for Samo and her siblings, whom she hadn't seen since she was adopted at the age of eight weeks. The pair was able to connect with "half of the pack," and they all gathered together in New York City at Happy Paws. They discussed everything "dog," including what their pups liked and disliked, as well as the excursions they go on.
In this wonderful reunion video, see the dogs' reactions and share it with your friends!