Rescue Dog Gently Offers His Paw To Assist Abused Puppy
|
While being treated at a vet hospital in South Carolina, two abused and neglected canines enjoyed a tender moment of connection. Sammie, a puppy, has just had a three-hour surgery. Before being rescued by Rescue Dogs Rock NYC, the 4-month-old Boxer had been dragged behind a car, shot in the head, and spray painted blue.
Simon is another rescue dog who was neglected and developed mange. Rescue Dogs Rock NYC rescued both dogs from different shelters. Their encounter was unintentional, but oh, so sweet.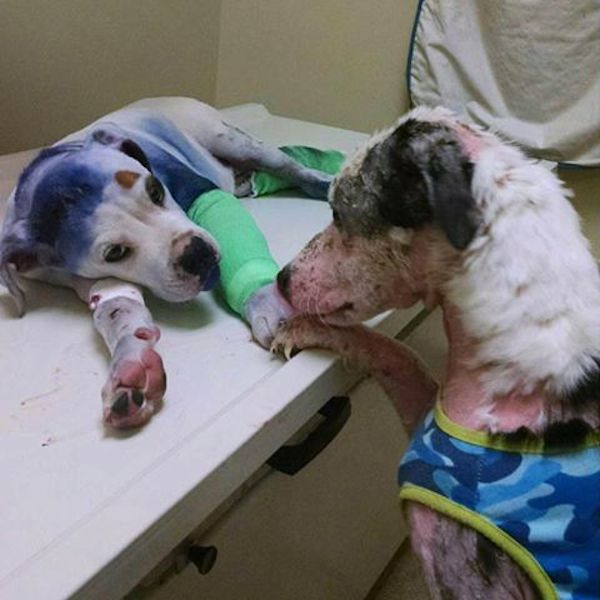 On their Facebook page, Rescue Dogs Rock NYC said, "A great example which teaches us that our companion animals DO FEEL sorrow and exhibit compassion for others."
"Never underestimate the STRENGTH of our loving companion animals!!!! Our mange puppy, Simon, is soothing Sammie, our newest urgent patient."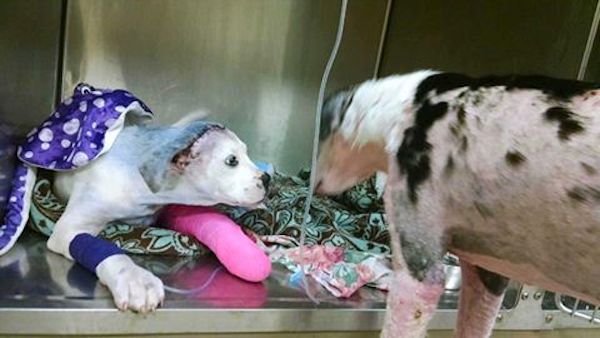 "They were both rescued from different South Carolina shelters and are being treated by our vet partner there." Simon stopped in last night to check on Sammie and see how he was doing…. Sammie appreciated Simon's gentle touch and was appreciative for Simon's love and attention."
"Right now, Sammie is battling for his life in surgery, trying to save his two shattered legs with the risk of infection settling in the bone because his injuries are at least four to five days old, which is very worrying."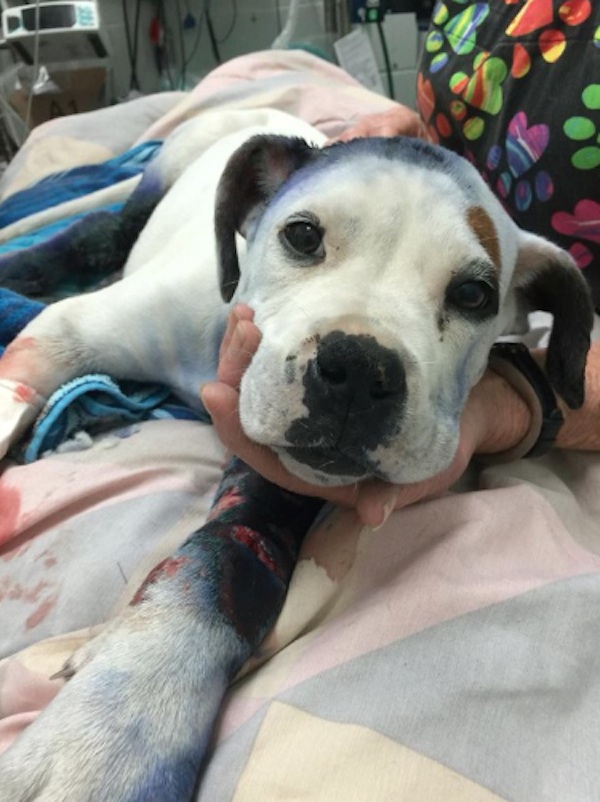 Sammie is only one of the many urgent situations handled by the all-volunteer rescue, but it is one of the most terrifying.
They couldn't ignore a desperate request for assistance from a Boxer puppy. Jackie O'Sullivan, the rescue's co-founder, received an urgent communication from a South Carolina shelter:
"I desperately need your assistance!" We have a three-to-four-month-old boxer puppy who was spray-painted, shot in the head, and dragged behind a car. Just to stabilize him, we were able to get him to a veterinarian. Could you kindly take him to the hospital to save his life?"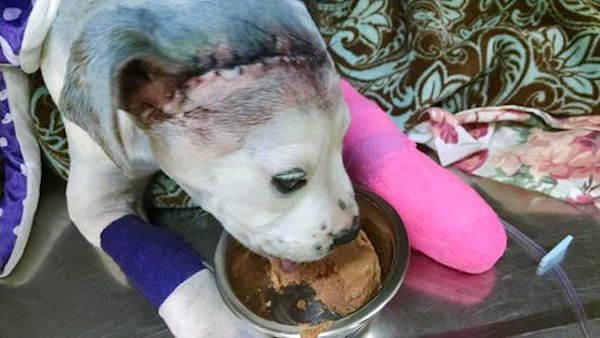 Sammie managed to stay alive despite his horrific ordeal. He was brought into the shelter by a woman and turned over because "he wouldn't die." "His wounds are thought to be 2-3 days old," according to Rescue Dogs Rock NYC.
Despite how shocking and dubious the woman's claim is, Rescue Dogs Rock NYC believes that a cruelty probe is improbable because the dog was "signed over" and accepted as a stray. All they could do was take Sammie to an emergency veterinarian.
"You can see in the images that Sammie has a bullet hole in his skull. "We are told the bones in at least one of his back legs have been crushed, and his flesh has been shredded and slashed wide open from being dragged behind a car," the rescue wrote. "He is unable to stand or walk, and the pain he has undergone at the hands of evil makes us tremble at the prospect of sharing the world with the person or persons responsible."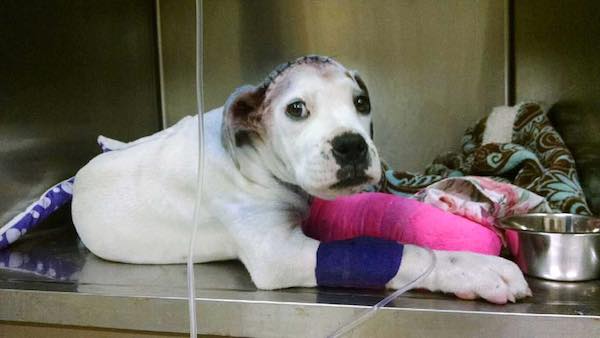 "Who knows what more damage the gunshot and dragging will cause. "We hope that karma will be speedy and just in this instance, but we also know that we are the only ones left to pick up the pieces and help this poor innocent baby," Jackie wrote.
Sammie had his first surgery, which lasted more than three hours. Despite the fact that his back right leg has been repaired, the doctor is still concerned about the infections in his left front limb. Sammie is being closely monitored and is on strict cage rest as a result.
Only time will tell if his limbs can be saved. However, the emotional support he is receiving from Simon and his rescuers must be helping to lift the little guy's spirits in the meantime. The future looks brighter for both pets. "Both know they are safe and rescued," their rescuers said.