The Internet Can't Get Enough Of This Little Dog Since It Is Smiling All The Time
|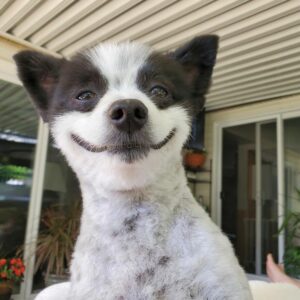 Dogs act somewhat differently than humans, who frequently show our teeth when we smile. Chevy, a 9-year-old dog, stands out among the group of animals that have trouble expressing their feelings through facial expressions. The puppy never fails to smile and brighten your day!
To learn more, Tina Denlinger, the owner of Chevy, was approached.
"We were looking for a friend for our corgi mix after losing our golden retriever nine years ago. We came upon him thanks to a newspaper ad. A group of hostile dachshunds were around him. He is coming home with us, my husband stated as he picked him up.
Chevy is a 9-year-old Pomeranian dog who is always grinning. Chevy's peculiar habit of smiling has caused him to go viral on the internet. Chevy's owner Tina said that his constant grin made him somewhat of a local celebrity.
Tina said, "The first time we really noticed the smile was when we picked him up from the vet after being neutered."
Furthermore, Tina told us that Chevy is loved by his family and friends. "Honestly, the family finds it hilarious. Several people have contacted me through his Instagram to tell they use his photos to help them smile every day.
"He is the most happy-go-lucky guy that we have had the pleasure of owning. He never has a bad day."