OFFICER GOES ON ROUTINE CALL AND ENDS UP FALLING IN LOVE.
|
His life had only just started, but things were currently looking dark for one little dog in Florida.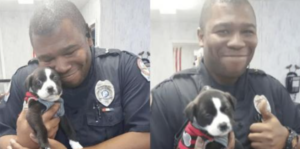 When this Florida police officer went to a routine call, he never thought he'll end up with a new very best friend. But it was love at first sight between the affectionate officer and the sweet puppy he met.  Grabbing him into his arms for a few moments was enough to never let him go.  The two are now inseparable.
The dog knew that Montgomery was 'good people' and curled up on his lap.
It is not surprising that Montgomery and his girlfriend want to foster the little guy.
Montgomery has fostered and adopted from PAWS before, so,it was really a no-brainer.
"We spoke for about 20 minutes and I was wrapping up my investigation," the officer told BuzzFeed. "One of the supervisors left, and while I was still speaking to the director of PAWS, the supervisor came back in with this little puppy in her hands.You could tell he'd been sleeping because his eyes were heavy and he was yawning constantly."
Soon as he saw the cute little thing, officer Montgomery couldn't help but fell in love with him, especially when he learned about his sad story. Apparently,the puppy was left on the shelter's doorsteps inside a box over night, and an employee found him in the morning. After hugging him for a few moments, officer Montgomery knew he won't leave empty handed,so he adopted Kylo-how he later named him-straight away.
We can rest assured that as long as Montgomery has Kylo, he will be loved and fed and warm.
Video: