OLD DOG CAST OUT FROM HIS HOME SLUMPED OVER & WAITED FOR HIS TIME TO COME
|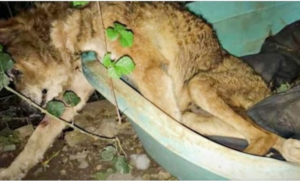 An old dog that should've been inside, enjoying life with his family,was instead cast out into the yard. The poor dog was forced to endure the cold and the rain.
He was hungry and his joints hurt.The dog was already dead by the time a rescue group was contacted and arrived to help him. They assumed he had died recently and wept for him.
As one of the rescuers approached, he discovered that the old dog was still alive!  Despite the fact that his body appeared rigid and slumped over the side of his dog bed, the dog fought to stay.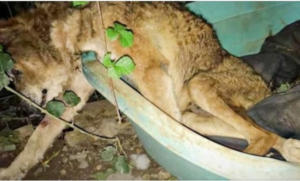 Thankfully, this old boy was going to get a second chance. They weren't sure how long this poor old boy would live, but they weren't going to let him die like this.
They picked the dog up and gave him a new name: Kesto. Kesto's family didn't want him anyway and didn't even say goodbye when he left.
He had devoted all those precious years to them and they couldn't have cared less about him. What monsters.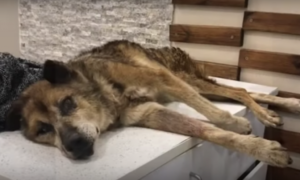 Kesto was taken to the veterinarian, who was honest about his condition.Kesto was at least 15 years old,according to the doctor, and he would not be aggressive with treatment.  His goal was to make Kesto happy and comfortable. The elderly dog was hypothermic and had a large tumor in his stomach.Internal bleeding was caused by the mass.  Kesto was given warm saline to help with his hypothermia.He was also given anti-bleeding medication.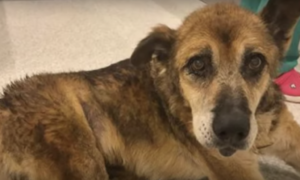 In just two hours, Kesto improved drastically. He was even able to lift his head up. The vet said he was well enough to go to a foster home. One of the rescuers happily volunteered.
She had a soft spot for senior dogs and couldn't wait to bring him home. Kesto enjoyed his first real meal that wasn't cheap kibble. He loved it !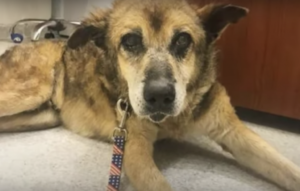 His new foster mother then showed him a place to sleep. Inside the warm house, right next to his new foster brother!Kesto had no idea being inside a house could feel so good.He was content, with a full stomach and a soft bed to lie on.For the first time in his life, he fell asleep happy.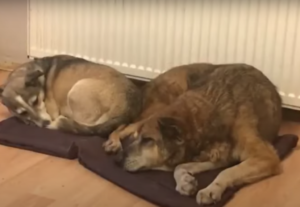 Kesto's new mom understood that he didn't have long left. She wanted to give him all she could so he pass away with happy memories. Each day she made sure to pet him and give him yummy treats.
He even went on short walks with his new brother. He was truly happy. He even got to snuggle up on the couch as his new mom watched TV.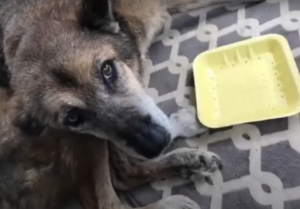 The senior dog lived for a few more weeks.Yes, we wish Kesto had lived longer, but at least he got to see what a dog's life should be like. That was all the sweet boy ever desired.
RIP sweet Kesto.You will be missed. Thank you to Kesto's rescuers and foster family ! We are so happy he got to live out his days surrounded by love.