FDNY Saves Drowning Dog Who Was Thrown Off Bridge Into A River.
|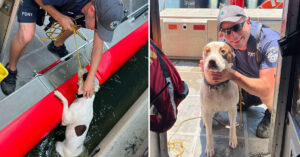 A two-year-old pit bull mix was rescued by a FDNY Marine unit, that found him in the Harlem River, New York.
When then Marine 4 unit arrived at the scene, they saw a citizen trying to keep the dog afloat. The unit, that was led by Lieutenant Salvatore Sodano, knew that the dog ended up in the river after being thrown off a bridge.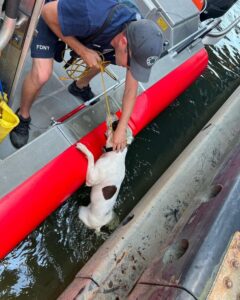 The dog was in distress, and when the unit arrived on the scene they found a good samaritan clinging to the dog from the shore to keep him from drowning.
The marine unit, led by Lieutenant Sodano, proceeded to take a water vessel out to the dog's location to make a rescue.
The firefighters were able to successfully get a hold of the dog and bring him safely on board:
The dog would have faced a different fate if the FDNY unit and the citizen were not there at the exact time. The ASPCA and the NYPD's Animal Cruelty Investigation Squad are not investigating to know how the pooch fell down off the bridge!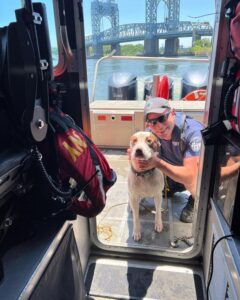 The story went viral, and reactions were both outraged that someone would throw a dog off a bridge like this and inspired by the rescue effort.
"What is wrong with people. Who does this to an innocent animal. I hope he finds an amazing forever home," one commenter wrote. "Thank you Marine 4 and the Good Samaritan who helped."