Rescue of a dog lost for nearly two months requires a delicate operation in a cave.
|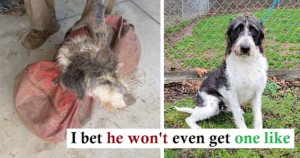 A group of speleologists managed to find and save a dog that had been missing for two months. Their goal was particularly difficult because of the way the facility was laid out, according to positive-info.
Abby the dog was found and saved by cave divers on August 6—nearly two months after she vanished on June 9.
When hunting for Abby, how did her family not notice that she had wandered off and ended up in a cave? Only she can provide a definitive response to this inquiry. Even though she had access to water and freshwater fish and crustaceans, it is unknown how she survived in this unfriendly and entirely dark habitat.
When experts learned that the dog had been seen in the Tom Moore underground tunnels in Missouri between Brewer and Perryville, they promptly took steps to save her. Gerry Keene and Rick Haley were among the group of cavers. They entered the 35 km long maze right away. The animal was located ultimately, but it wasn't simple to set it free.
They squeezed Abby into a 60-centimeter space before ascending 150 meters up the rock face to the surface.
Robert Cahoon, deputy chief of the Biehle fire brigade, helped them outside. Between the two of them, they canvassed the area looking for the dog's owners. Once they found the correct address, they were able to enter. Abby's owners, who had given up hope that they would ever see their dog alive again after so much time had passed since she had vanished, were shocked. Back at home, the dog is taking it easy as she recovers from her ordeal.