THE VETERINARIAN NURSE WHO SAVED THE DOG THAT WAS "HOURS FROM DEATH" ADOPTED HIM.
|
A dog who was "hours away from death" when it was discovered severely malnourished has found a loving new home with the vet nurse who assisted in his recuperation. Seb was one of several animals, including two other dogs, that were found at home after their elderly owner passed away.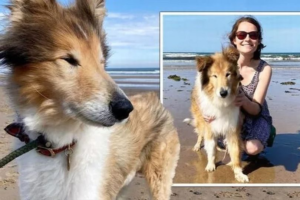 Ruth Thomas-Coxon, an RSPCA animal rescue officer (ARO), was dispatched to retrieve the animals after they were signed over to the organization for care.Seb's fur was a tangled mess from neglect.
Burn, a vet at Stanhope Park Vets in Darlington, nursed Seb back to health.After falling in love with him, she decided to adopt him.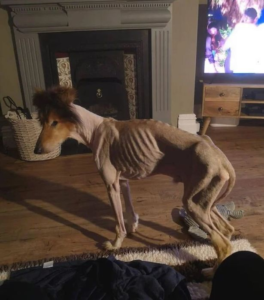 Nicole, 28, said, "When we lifted Seb onto the examination table at the vet's, there was nothing on him."
"When I first saw Seb, he was in a terrible state, and we thought he was hours away from death," Nicole explained.
Because of his extreme malnutrition, his matted fur had to be removed under anesthesia, and everyone was surprised to see how his spine and bones could be seen through his skin.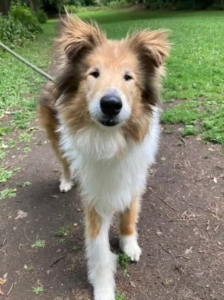 When Seb sought emergency care, he weighed 12.2 kilograms, but after two months, he put on weight and reached a healthier weight of 19.9 kilograms. Nicole took care of Seb and quickly developed a fondness for him. When the time came for him to be adopted, she seized the opportunity.
He is such a gentle and happy boy. I bonded with him right away, and now he is never too far away from me. He has been through some difficult times, but he is so happy and content, and he comes to work with me every day-he is a perfect fit in my life. I have grown up with rough-haired collies, so I know the breed well.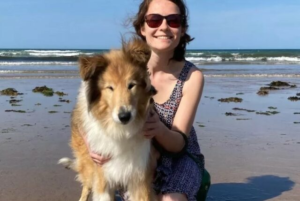 The RSPCA's Cancel out Cruelty fundraising initiative is helping other animals like Seb.Each month, the organization investigates 6,000 cases of willful animal cruelty and receives approximately 90,000 calls to its cruelty line.