THIS LABRADOR FOSTERED BECOMES AN INTERNET STAR AFTER ADOPTED 9 NEWBORN DUCK.
|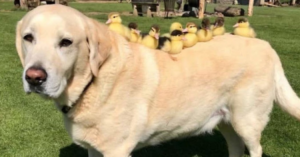 He is so adorable and kind.
Fred, a 10-year-old Labrador retriever, lives at Mountfitchet Castle in Stansted, United Kingdom.He rose to fame as a loyal and friendly pup after becoming the father of nine orphaned ducklings.
The duckling's mother vanished, leaving them alone.Fred took on the responsibility of caring for the ducks.He curled up next to them to keep them warm.These ducklings can feel Fred's gentle care and comfort, so they accepted their strange-looking new mother and climbed all over him.
They seem right at home on his back.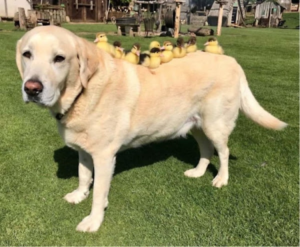 Then under the care of Fred, they swim in the moat. They also take naps on the lawn with Fred whenever. Castle staff hopes Fred could give this kind of attentive attention for a few more weeks until they are old enough. By then, the ducks will be independent and ready to start a new life on the castle grounds.
Labs are just the best.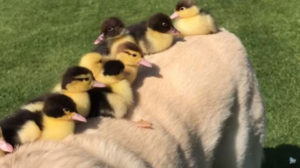 It's odd that Fred adopted ducklings but did not become a father to other Labradors.Anyway, he did an excellent job, and he is now content to be a stay-at-home father raising nine newborn ducklings.
What a wonderful dog !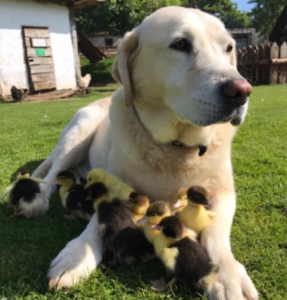 Wherever Fred goes, the ducklings are right behind, they stay with Fred all day long.
Absolutely adorable.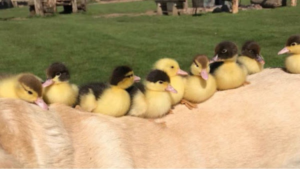 Fred is beautiful and a great foster dad too!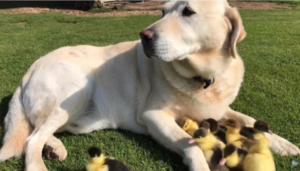 Adorable !
"Well done Fred."