Adorable Jack Russell Fails Agility Course, But Leaves Everyone In Stitches
|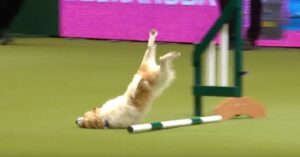 The internet is cracking up over a video of a Jack Russell performing at the Crufts dog show. The dog, Olly, failed the first obstacle, but it didn't stop him from amping up his run and running freely around the obstacle course. The enthusiastic and eccentric performance by the dog enthralled the audience. He simply entered and had an absolute blast.
Olly's infectious laughter can be heard throughout the entire video, and not even the announcer could contain his laughter in response to his hilarious antics. He overcame each challenge with such tenacity and zeal.
Olly may not have succeeded on the agility course, but the audience loved his performance.
He was able to put a smile on everyone's face, so, if you're having a bad day, just watch the hilarious video at the end of the post and make it a little bit better.
This adorable Jack Russell's performance at the Crufts dog show is making everyone laugh online.
Watch the full video below and have your daily laugh.