DOG ADOPTED BY A COFFEE SHOP SITS WITH CUSTOMERS EVERY DAY, TRY TO KEEP THEM COMPANY
|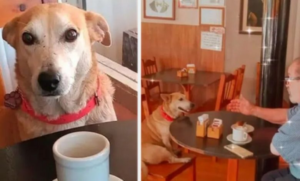 Camila, the cafe's owner, adopted the dog and named him Corchito. He is now in charge of escorting clients who are alone or who are having a rough day. Some people do not always feel understood when they are surrounded by other people. Corchito is therefore available to the most lonesome consumers.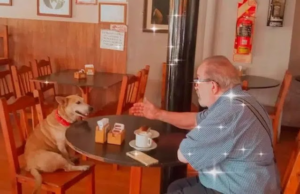 Corchito understands that sometimes all you need is a little love and support to feel better. This dog can detect when someone is having a bad day. Furthermore, her sheer presence makes individuals feel as though their day has been pre-planned. Feeling an animal's affection over an extended length of time makes them feel better.
Camila Gallando owns Dickens, an Argentine Restobar that is primarily a café.She runs the family business, which is well-known in the neighborhood.Every day was the same, with no significant changes, until Corchito arrived and changed everything.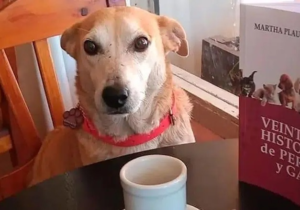 On a rainy day, Corchito is forced to seek refuge in Camila's cafe, where she quickly falls in love with him.
amila liked how friendly the dog was, so she decided to make Dickens her new home, and this lovely property would become Corchito's heaven on earth.
Camila had no idea how much attention Corchito was going to get.He settled in without incident, despite being particularly friendly with everyone.The most amazing part is that when someone entered Dickens and sat alone at a table, Corchito approached him and sat beside him without hesitation.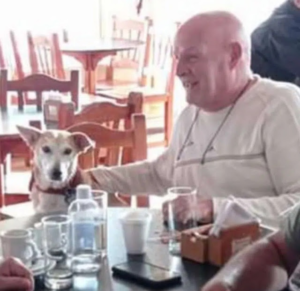 Many people believe the dog is begging for food or something, but the dog simply sits and walks alongside people. When other people speak to him, he appears to pay close attention to what they are saying. One of the customers recently lost her husband, with whom she used to come to the café and sit with Corchito, but now she comes alone, so the dog becomes even more important to her.
Corchito adores everyone who walks into his cafe, but he has a soft spot for the elderly, especially when they are down. The dog appears to have a sixth sense for detecting grief and thus approaches those who are most distressed.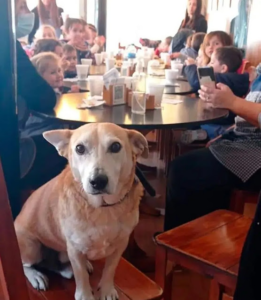 Camila not only looks after Corchito, but she has also decided to provide a safe haven for the other stray dogs who arrive at the cafe late at night in need of a place to sleep.Corchito acknowledges the situation and expresses his support for them.Despite the fact that he is the café's dog, he is always willing to assist other dogs or people.Corchito is without a doubt a shining example, and it is because of him that the residents of the region value coffee even more.