Puppy Daycare Center Posts Adorable Photos Of Pups Sleeping Together, And They Go Viral.
|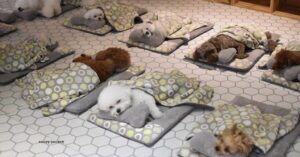 Puppies are too cute to handle. They don't even have to try to overwhelm us with their cuteness. A puppy daycare center in Gyeonggi-do, South Korea, is posting pictures of their adorable little puppies napping, and they immediately took the Internet by storm.
Puppy Spring in Gyeonggi-do, South Korea, is a doggy day-care that looks after pups older than 12 weeks.
It's perfect for dog owners who work full-time; they know that their precious pups are happy and being well-taken care of even when they're busy at work.
Puppy Spring is a blessing to its patrons, but it has also become a source of happiness for people online due to its adorable Instagram.
Puppy Spring regularly posts pictures of its puppies' naptime and the internet has fallen in love with them.
The center has numerous games and exercises planned for their puppies in order to improve their sociability skills and obedience. But, all of these activities can exhaust the little puppies, meaning they need to recharge their batteries during naptime!
Naptime takes place between 2.00 and 2.30 pm and staff will often snap a few pictures of the slumbering pups to share with the world.
The result is one of the cutest instas out there and we've collected 10 of our favourite pics of the snoozing pooches in the gallery below: