Dog Rescued by Surfers After Being Lost for Months in a Remote Cave
|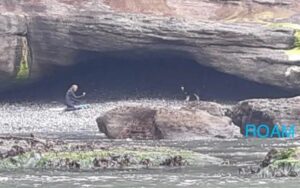 Having been missing for three months on a remote Vancouver Island, a dog's nightmare was eventually put to an end when she was discovered and saved by two surfers. Friends Matty Johnson and Zach Regan saw the dog on the coast while out surfing and fishing in British Columbia not far from the Juan de Fuca route on Vancouver Island. In their boat, they were close to Magdalena Point when they saw activity close to the onshore caves.
Looking into the caves as we passed, Regan said CTV News, "I saw tan legs walk out, just a glimpse, and I thought, 'Oh that looks like an animal.'"
The pals agreed to move closer to the shore and look into his probable find. They were able to confirm that it was a dog at that point, and that she had become lost in a cave close to some tough terrain that was off a well-traveled hiking trail. Regan observed that it was obvious the dog was trapped on the narrow coastline since it was unable to escape the cave.
Johnson and Regan decided to rescue the puppy on their own when they realized there were no other people in the area. Johnson put on his wetsuit, gathered his surfboard, and headed toward the cave. He was able to convince the dog to climb up on the board, and they both swam back to the boat together. She was so weak that she simply collapsed in the boat, and Regan assisted in hoisting her on board. Before setting out to return to civilization, the two men dressed her in a life jacket and wrapped her in a blanket to keep her warm. The friends fed the dog and bathed her once they were back on land. They then requested assistance from Reuniting Owners with Animals Missing (ROAM). The founder of ROAM, Leslie Steeves, was aware that locating the dog's family would be difficult. When Steeves heard about the dog's terrifying rescue, she was in disbelief and in awe that the pup had endured so much in such conditions.
Steeves went on CTV News to share the story and to begin the search for the owners. Fortunately, the call they had been waiting for arrived within a day of the news story airing. The dog was actually named Stella, and her owners had seen the news clip about her survival, it turned out. She had joined the couple on their honeymoon when she went missing, they told Steeves as they filled him in on the story. Stella and their other dogs had joined them on a hike when she abruptly vanished. Despite spending a week looking for her, they were ultimately forced to return home without finding her. It goes without saying that when they discovered she was still alive, they were ecstatic. None other than a miracle, according to Regan. And in order to assist the dog in returning home, he took the initiative to drive her to be reunited with her family. He noted that when Stella first saw her family, she "perked up ten times more.". Stella was obviously grateful to be back where she belonged, despite the amount of time that had passed.