German Shepherd Who Is Blind Is Overjoyed To Have Her Own Guide Dog
|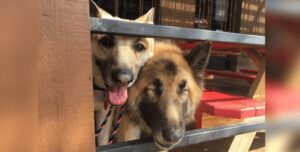 Dogs Babs and Bart looked like any other couple of stray dogs when volunteers pulled them last year from the streets of Denton, Texas. The two animals, however, had a very unique bond, which they soon discovered. Babs was suffering from severe glaucoma in her eyes when she was found and saved by veterinarians. She was in a lot of pain, so it was decided to remove both of her eyes, rendering her totally blind.
The dogs were subsequently placed in separate foster homes, but their caregivers soon became aware of a problem:
They both stopped functioning entirely. Calling the other foster, one foster suggested getting the dogs together. When they got back together, magically, their wonderful personalities emerged.
They could see that the two dogs were bonded, and as they observed how they interacted, they came to an amazing realization. Bart was Babs' guide dog, Laura Cherry, their foster mother, said. Babs is supported by Bart, who leads her everywhere we go. Usually she follows his lead by listening, smelling, and staying one step behind him. She has extraordinary senses and will enter the vehicle precisely where he does, pick up the tennis ball from where he drops it, etc.
Due to this and the fact that Bart is now fiercely protective of Babs, the two were placed up for adoption together. Despite their viral Facebook posts on the DFW Rescue Me page, it was challenging to find them a good home due to the special challenges the two bring (not everyone can care for two large dogs, let alone one of them being blind).
Cherry, however, got a call in June saying that a house had been found. In order to meet the new members of his family, their new father, Jay, traveled from Montana to Texas. It was immediately apparent that the two would get along well. These incredible friends have finally found their forever home after everything they've been through.