Daughter Cries After Learning Parents Adopted Dog She's Been Caring For
|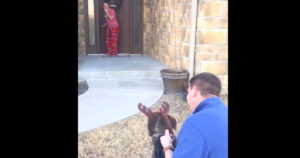 Hallee, their daughter, started working at the neighborhood shelter because she had wanted a dog for years. There, she fell in love with a dog, and she was devastated to learn that it had been adopted. She had no idea that her parents were preparing a memorable Christmas present for her.
Hallee Fuqua had a particular Christmas wish that she had been requesting for years. She yearned for a dog dearly. She was enrolled at Oklahoma State University, though, and her parents' advice to wait until after college was always the same.
Hallee made the decision to sign up as a volunteer at the Humane Society of Stillwater in order to assist fill the vacuum. The sophomore met several dogs there, but it was a Plott Hound/Lab mix named Rambo who really captured her heart.
The two got along well right away, and Hallee began paying regular visits to Rambo.
He was a big adult dog, which contributed to the difficulty of finding him a home, but all he wanted was to be showered with love.
To the Stillwater News Press, Hallee stated:
He was silent. Numerous dogs would bark, but he would just sit there. He has a huge cuddly side. He views himself as a gigantic lap dog.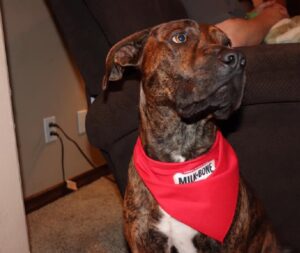 Hallee started sending her parents movies and pictures as she got more and more attached to Rambo. Then, one day, her mother Jessica realized something.
She outlined the following to the news source:
"I just had a feeling he belonged here. I've said "No" enough times. He seems like a member of our family.
Hallee's parents gave her the two-year-old Rambo as an adoption gift for Christmas without her knowledge. However, the Humane Society aided and kept the adoption a secret because the holiday wasn't until a few weeks away.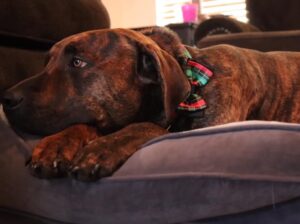 Then came the depressing day when Hallee discovered her canine companion had been adopted. Her father Lance claimed that "she was broken. ". Of course, Hallee had no idea who it was. Realizing how upset their daughter was about Rambo, they made the decision to surprise her with an early Christmas present. What they documented on camera is turning viewers' hearts into puddles.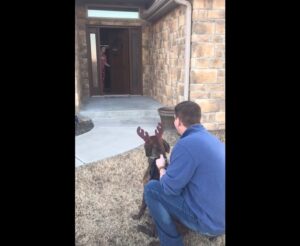 Outside the home of the family, Rambo is waiting on a leash while sporting a cute set of reindeer antlers. Hallee finally opens the door with her mother's guidance and is overcome with shock at what she sees. She had anticipated never seeing the dog again. When her friend is in their yard, Hallee, who is overwhelmed, starts crying. Dad then lets go of the leash, and the dog runs lovingly to his new owner.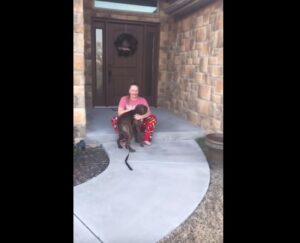 Hallee can't control her tears, so the scene is heartbreaking. Opening the door, more family members allow Rambo to enter the room. Hallee must discover one solution, though. She asks as she turns to face the camera. Is she mine? Hallee continues to cry after learning that "yes," she was the new owner of Rambo. In fact, the clip makes viewers want to reach for the tissues as well!
Rambo, fortunately, was one of the fortunate dogs who eventually received the best forever home imaginable. The most exquisite gift was given to Hallee, who will never forget it.
Watch the video below to see Hallee's priceless reaction!