A stray dog acts as a crossing guard and guides kids across the street safely.
|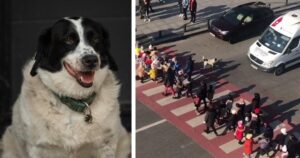 A stray dog that acted quickly to assist a group of kids cross a roadway safely has gone viral online.
It took place on Friday in Georgia, a former Soviet republic.
As kindergarteners attempted to cross a busy street, an amateur video of the dog showing it waving its tail and barking at automobiles was captured. Although there were children and an adult on the crosswalk, not all drivers stopped.
The self-appointed crossing guard walked the final distance with the group once it was secure.
The stray  name is "Kursha," according to the photographer, and she resides in the area.
View this post on Instagram
View this post on Instagram