Stallion kisses the man who earned his heart and trust goodbye
|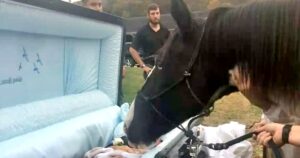 The daughter of a kind man who had recently gone away in Buckhanon, West Virginia, relates the tale of a horse and his human in a touching homage to a life well lived. It turned out that the two had a kinship that few people—aside from perhaps someone who loves horses—could ever comprehend, thus it was appropriate to let Major to say farewell.
Janna Grapperhaus Midwife got a panicked call from her mother two years ago:
JANNA, YOU MUST PERSUADE YOUR DAD TO GET RID OF THAT HORSE, AS IT WILL KILL HIM!
Major (also known as Major Deal) was a "young and vicious" stallion who "couldn't be broke." Major was broken by the horse's former owners using a method that involved whipping him and binding his head firmly between two posts while being left standing for a long time without food or water.
Major persevered despite the suffering; after Janna's father bought the stallion, he broke through the fencing shortly after arriving at the ranch and would attempt to bite or strike at anyone who tried to approach his territory.
My father never broke him. HE GOT HIS HEART FOR FREE. DAD WORKED HARD EVERY DAY FOR HOURS AND HOURS TO EARN THAT ABUSED HORSE'S TRUST. LOVE WON, AND MAJOR ALLOWED MY DAD TO RIDE HIM AFTER TWO WHOLE YEARS.
And the love and trust gradually grew.
"MAJOR KISSED HIM ON THE HEAD OVER AND OVER WHEN DAD WOULD GO OUT. ONLY HORSE PEOPLE COULD EVER UNDERSTAND THEIR BOND. MAJOR SHOULD BE PERMITTED TO SAY GOODBYE, IT APPEARED. MAJOR'S LAST KISS IS THIS.
On a hill overlooking the family property is the final burial place of Janna's father. For the rest of his life, Major stays in the same house on the farm.