A Marathon Runner Crossed the Finish Line With the Abandoned Puppy She Saved Along the Way
|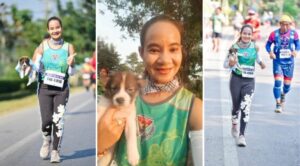 Thai marathon runner Khemjira Klongsanun was taking part in a 26-mile (42-kilometer) race in western Thailand. She spotted other runners swerving to avoid something on the road after around seven miles. She then recognized what it was: a small stray puppy! She then paused in her stride to entice the terrified dog out of the way. The dog probably wouldn't survive if she left it because she couldn't see any nearby homes or people when she turned to look around.
She then made the decision to pick up the puppy and carry him the remaining 19 miles. As the generous person and lucky dog crossed the finish line together, many spectators and videographers were struck by the magnificent sight. While they were adorable together, Klongsanun claimed that even though the dog was small, jogging for miles with him added difficulty to the race.
After taking the puppy home, she tried unsuccessfully to track down the owner (if there was one). She made the decision to adopt the dog and gave him the marathon's name, Chombueng. The puppy now shared a home with the runner's two older dogs. In case you're curious, the adorable dog is a "Thai Bangkaew," a spitz-type dog that also includes Samoyeds, Huskies, and Shibas.