Seeing-eye camel and blind horse become close buddies.
|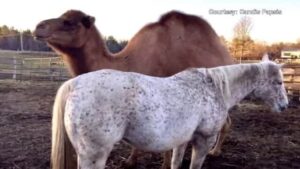 You've probably heard of blind people's seeing-eye dogs. But what about a horse that has a seeing-eye camel instead?
The two animals, a horse named Dolly and a camel named Caesar, live together and perform for visitors at the Pony X-Press Zoo in Winslow, Maine, where their unexpected friendship first developed.
She is most likely the only horse with a seeing-eye camel; sadly, she has lost her sight, according to zookeeper Ed Papsis.
Caesar, according to Papsis, is the top attraction in the zoo, maybe because of how special he is.
"Usually, people think of the camels in the desert," he remarked. He is the most amiable thing.
Caesar required companionship, but initially there was some difficulty.
He was too enormous, so we tried putting alpacas in with him, but it didn't work out, according to Papsis.
Then Dolly required a guide as her vision became worse..
According to Papsis, "We brought the horse in here and she just kind of bonded with him and he bonded with her." It worked wonderfully because she now depends on him and follows him everywhere after going blind.