After eight years of service, the officer honors his K-9 partner with a final radio call.
|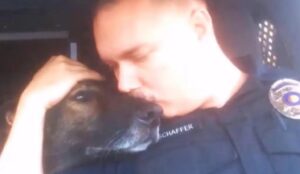 Dogs are excellent life partners in all facets. Not only are they our best pals at home, but they are also our closest colleagues. The interactions between working dogs and their partners are always very heartwarming because of this. Service dogs and police enforcement dogs perform the majority of dog tasks. A police K-9 dog is adored by all, especially by its human partners who depend on them for assistance and defense. Because of this, it is a very emotional period when one of them decides to retire.
When a K-9 police dog boarded the squad car for the final time, he had no idea that his career was going to come to an end. As he entered the vehicle with his partner, Senior Special Agent Bryan Schaffer, Faust the police K-9 dog was content. They were a qualified Explosives Detection and Patrol team that had worked together for years to react to numerous emergencies. But things were going to change a little on Faust's last day.
Faust had grown accustomed to sitting next to Schaffer during their calls throughout his service. Additionally, the dog would always become excited when he heard radio talk shows. The contented dog was unaware that this day would be his last on the force. Faust had astonishingly served the police department for eight years and one day. Despite the fact that he had earned his position on the force, he needed to retire and turn in his badge. And Schaffer was undoubtedly overcome with emotion as they prepared to make their last joint radio call.
Schaffer, who was upset to lose Faust, hugged his dog companion while he listened to the conversations on the radio.
Schaffer posted a heartfelt thank-you on Facebook later that day, saying, "Thank you for getting us both home safely after every shift." Schaffer was going to miss his best friend at work terribly, there was no doubt about that. However, Faust would at least get to live out his golden years in retirement.
Watch the touching video below: