MEET COPLEY, A LOYAL COMPANION WHO HAS A PASSION FOR HELPING OUT IN THE KITCHEN!
|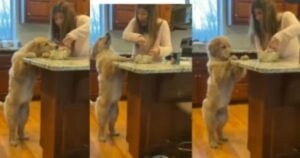 Have you ever considered the various ways in which our canine Labrador companion becomes a part of our daily lives? Copley is a devoted companion who enjoys offering a helping hand in the kitchen! Making dinner isn't just a duty at our house; it's a fun adventure we share with our four-legged sous chef.
Copley joyfully joins us in the kitchen every evening as the sun begins to set, tail wagging with delight.
But Copley isn't just an observer; He loves to contribute! His wagging tail and eager eyes speak volumes, telling us that he wants to help.
Watch the Video: