WOMAN ADOPTS SAD PIT BULL. THE DOG CAN'T STOP HUGGING HER !
|
Kayla Filoon (20) worked as a dog sitter at a dog boarding house for abandoned dogs in addition to her studies.
Russ, a pit bull, came in one day. And Kayla realized she had to take him home right away.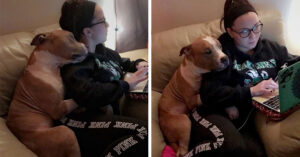 Kayla told The Dodo, "He came in like a stray dog and looked like he'd been battered."
"His tail and ears were lacking fur. "He was also very frail," she continues, adding:
'He just sat there looking at me, totally relaxed.' 'I have to take him with me now,' I reasoned.
Take a look at the video below and share with friends and family.