He Went From A Homeless Puppy To A Decorated K9, Now He Says His Final Goodbye
|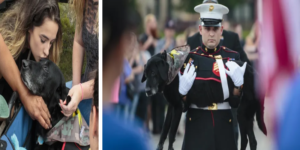 The staff at Union County Sheriff's Office  in  North  Carolina is mourning the loss of Champ, one of their most celebrated former K9s. The senior black Labrador passed away after spending 6 golden years in his retirement home, surrounded by the people who loved and cherished  him  deeply.
Champ had a rough start in life as he was abandoned when he was just a helpless little puppy. But the Union County Animal Shelter took him in and also introduced him to the local deputies. Champ's agility and faithfulness stood out to  the cops and they got him trained for police work. After qualifying as a Narcotics Detection  K9,  Champ partnered with Deputy Tommy Gallis   and  began  serving the community in 2007.
In his decorated 7-year-long career, Champ not only located narcotics and articles, but also tracked down people for the cops occasionally. He was a very smart, hardworking and dedicated K9 who excelled at his job and     had a     strong sense     of protectiveness toward humans. When he   was     retired in 2014, he was adopted by Deputy "Buzzy" Helms.
Champ had quite a comfortable retirement as a companion dog. However, he recently got too sick with old age-related issues. With heavy hearts, the officers wrapped the graying pooch in an American flag as they bid him a final farewell and let him pass away peacefully. Champ might have crossed the rainbow bridge now, but his legacy as a hero K9 will live on forever.
Please share to pass on this story to a friend or family member
Watch another videos about K9