A Sick Homeless Man Refuses To Trade His Dog In Exchange For Shelter Housing.
|
Luis Pereira was born in Sintra, Portugal, and was abandoned by his parents when he was four years old. He was later adopted, but the experience of living on the road had led him down a very dark path. Unfortunately, Luis developed an addiction, and his adoptive mother throw him to the streets.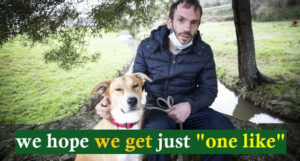 Luis met Kika, his beloved puppy, when he was just two years old. Kika has given Luis a lot of joy, but she has also brought him some difficulties. While he has received invitations from a variety of shelters and groups, each of these offers comes with a standard condition: Luis must leave Kika, which he cannot do.
The man knows what it's like to be betrayed by the ones you care for, and he won't let Kika go through the same thing. Luis had refused to go to a shelter because they did not allow dogs for sanitary reasons during the pandemic in the winter, where they survived the heavy rains under a tent.
Luis assures that it is because of Kika that he has matured as a person; she is his responsibility, and he cannot allow himself to be in the dark because he must keep an eye on her and protect her.
The guy has a serious respiratory problem, which puts him under pressure, despite his sickness, he has no intention of leaving Kika. Luis' devotion to Kika is admirable! We wish them both the best of luck.