Terrified Dog With Broken Heart Rescued After Owner Says He Doesn't Want Him Anymore
|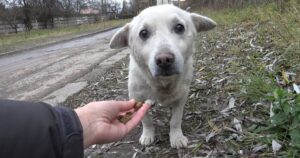 Simply mentioning that a dog is sad and lonely causes our hearts to shiver with sympathy.
However, the fact is that 9-year-old Bobi's tale of wandering the streets after being rejected by his owner is tragic.
And knowing these stories is vital because we all have a local rescue or shelter full of vulnerable animals with similar stories. So, the good news is that you may be the protagonist in one of these tales.
Bobi was discovered wandering along the railroad tracks. He was clearly a gentle, old dog who was afraid of people.
As you can see, saving him from his precarious condition would have put human lives in jeopardy, so rescuers had no choice but to wait and hope that he would approach them without being hit.
After years of being someone's devoted pet, this isn't the life he deserved.
Rescuers, on the other hand, are a unique breed, and they were not about to leave him. Instead, they attempted to persuade him to relocate to a location with fewer tracks. Bobi, on the other hand, would flee if they got too close. Luckily, they brought treats.
Is there any better way to persuade a dog that you are a decent person?
evaluating the damage
Since no one knew how long the senior dog had been on the streets, they needed to get him to a veterinarian as soon as possible.
They gave him a minute to try them out because they wanted to win his confidence. As a result, Bobi took a good sniff to collect his own details first.
A dog understands love after years of being a pet.
So Bobi finally warmed up and allowed his rescuers to pet him and give him a little scratch behind the ears.
He also let them put the leash on without any drama once he knew he was in good hands. This was his routine. After all, it's likely one he's been working on with an owner for years.
One can only hope that he was simply misplaced and that his owner would be delighted to see him again.
Everyone was happy to call the owner to inform them they had found their little dog after the vet checked for a microchip.
However, there will be no reunion. They told them that the dog's name was Bobi and that he had escaped. In reality, he traveled quite a distance – about 10 miles from his home.
Unfortunately, they did not want him returned and requested that the rescue take him instead.
The true savior
There's no reason why Bobi ran away, and his owner hasn't accepted his return. He was friendly, completely vaccinated, microchipped, and neutered, and weighed a respectable 39 pounds.
He'd been looked after at some stage because he was also very nice and quickly overcame his aversion to humans.
Bobi, on the other hand, was elderly and in poor health. He couldn't see out of his left eye, perhaps as a result of an accident that left a scar. His right eye was in perfect condition.
The rescue described Bobi as a perfect candidate for a low-key family in their caption for his video: "He's very gentle, caring, and obedient, and he's still playful and curious." It's as though he's reliving the puppyhood he sorely missed. Bobi is an elderly dog in his golden years who needs a loving foster family to provide him with a house, this time a FOREVER home, where he can enjoy his remaining years."

Bobi was discovered and cared for by a Romanian rescue organization, which opened up his adoption to the rest of the world in the hopes that others would see what he had become in his weeks at the shelter – a content and playful puppy.
All who saw his sweet images was enchanted.
He was, however, a fantastic dog.
On a leash, he is polite and loving to those who are able to show him affection.
He regained his spring in his step and relished the opportunity to interact with other animals while having plenty of exercise.
Sure, he'd be in his golden years, but he wasn't going to waste them recuperating – and his failing eyesight was clearly not an issue.
Bobi's video was released in January of this year. Bobi was in his new home – in the United States – by late February.
In his new Deleware house, where he seems to be very content, he also had two siblings to play with.
His new owners have sent him a video of him having the time of his life.
Scroll down to see Bobi's heartbreaking rescue video as well as his happier times in his new home.
And tell your friends and family about this.