Police officer uses kayak to rescue struggling dog trapped in muddy NJ pond
|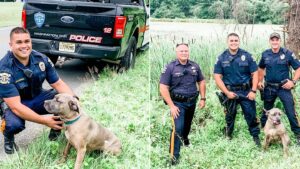 OFFICER, THANK YOU! The dog was found neck-deep in a muddy pond, straining to keep her head above water, by a police officer in New Jersey. So the cop commandeered a kayak and rescued the dog, safely bringing her to shore!
WASHINGTON TOWNSHIP, N.J. – A replacement Jersey cop paddled a kayak to the pond's center to save a dog trapped neck-deep in the sludge.
According to the department's Facebook page, police responded to a dog in trouble and saw Akela, a gray boxer/mastiff, struggling in the water.
Officer John Kuligowski seized a nearby kayak and paddled twisted Akela to safety. Kuligowski can be seen on video attempting to position the kayak close to Akela and bring her to safety. He is unable to get her aboard, but she is ultimately guided to the beach.
According to the post, Chief Thomas Cicerelle and officer Dallas Overko assisted with the rescue.
Once on land, Akela was unharmed and even posed for a few selfies with her three rescuers.
"After her trauma, Akela was overjoyed and even posed for a few quick photos before being given over to Animal Control Solutions," the department stated.
Watch the video below and share it with friends