Abandoned Dog Who Almost Lost Hope Gets Rescued And Given New Life
|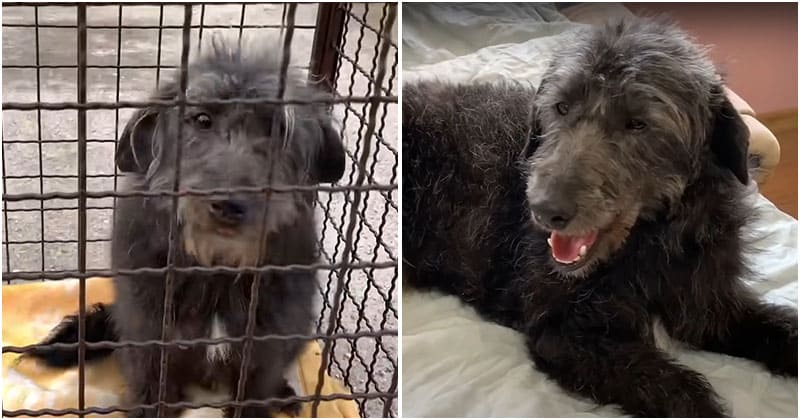 When a caring individual saw an abandoned dog on a regional road, he sought assistance from Dog Rescue Shelter Mladenovac. Following the frantic call, some rescuers arrived promptly to assist the injured animal. They finally found the dog's home thanks to the compassionate man's assistance. He was walking about looking for food, crossing the roadway from side to side. He appeared terrified and hungry.
One of the rescuers attempted to approach him, but he was unsuccessful since the poor dog was afraid of humans. When the dog saw the rescuers, it bolted and walked into a yard. He appeared to believe that these guys would cause him harm. The man decided to use food to lure him into the trap after trying multiple times. The poor boy came inside the cage because he was hungry and ate without hesitation.
They then sealed the trap, loaded it into their car, and drove to the veterinarian's office. The vets determined that he was around two years old after further investigation. His body was covered with fleas and ticks after surviving on the road for so long. They ran a blood test since he had a high fever. He had anaplasmosis, according to the results. He required antibiotic therapy as well as all other medical attention for his health problem.
The unfortunate dog began to recover his health after three weeks of love and care. Bak was given to him by the rescuers, who assisted him in making a full recovery. They also assisted him in finding the forever home he deserved. He could still trust humans and be happy after everything he'd been through. We are relieved to learn that he is now content in his loving home with his wonderful owners. We hope he will always be cherished and cared for.
Watch the full rescue here:
What a happy little man! Thank you for saving these precious animals. You bring so much hope for humanity. Keep up the good work and please save the lives of many animals!
Please share this post with your friends and family members to help save more animals in need!